Lawrence Police say a downtown dance club's popular hip-hop music night is partly to blame for two incidents of looting at an all-night convenience store.
But the club's owner said he's not responsible for what his patrons do on their way out of town.
"Let's catch who's doing it. That's what I think should be done," said Dennis Steffes, president of Tremors Inc., which operates Last Call, 729 N.H. "Do you want to deputize me? I'll send my staff over there, and we'll catch them."
Twice in the past three weeks, a mob of people has stormed into Zarco, 1500 E. 23rd St., after the bar's closing and stolen hundreds of dollars worth of beer, candy and snacks, police said. The most recent incident happened shortly before 2:30 a.m. Sunday.
"I just lost control of the whole situation," store manager Kelly Williams said. "I went back in my cage area and I locked the door behind me. Anything they could get their hands on, they were grabbing and trying to run out the door with."
Not the first time
A similar incident happened three weeks ago. In both cases, police and Williams said, the crime coincided with the closing of Last Call, which usually closes later than other bars and can attract up to 500 people for its Saturday hip-hop night.
Many of the people who raided the store this weekend were wearing Last Call bracelets issued at the door, Williams said.
It's not the first time local businesses have had problems with people leaving the club. In the late 1990s when the club was doing business as Tremors, police complained to Steffes that similar incidents were happening at convenience stores in North Lawrence near the Kansas Turnpike, Steffes said.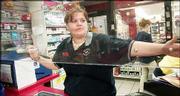 The thefts became so routine that many area convenience stores knew to close their doors between 2:30 a.m. and 4 a.m., Williams said. For several years, Steffes has been closing the club at 3 a.m. instead of 2 a.m., so police won't be overwhelmed when clubs let out. The club stops serving alcohol at 2 a.m.
On Saturday night, Williams got a call from police dispatchers warning that the club was closing early. She locked the doors, but she had some customers inside. When she opened the doors to let them out, the looters barged in, she said.
She estimated there were 50 cars in her parking lot and up to 100 people in the store.
Williams pushed a panic button, but the crowd members left before police could stop them.
"I think they're coming from Kansas City, and they're coming here to party Saturday night," she said. "On their way out of town is when they hit up my store."
Dispatch records show one person was stopped on Kansas Highway 10 a few minutes later by the Kansas Highway Patrol, but it was unclear whether that was related to the looting.
Williams said because of the looting, her store would no longer be open all night. She said she thought Last Call should be shut down.
Owner responds
Club owner Steffes said he thought city leaders don't give enough support and resources to patrol officers. It's typical of the city to blame businesses for society's problems, he said.
And, he said it was inevitable there would be a few troublemakers in every crowd of people.
"We open our doors to the general public," he said. "I don't incubate people in my attic. ... These are people that make up our society's fabric."
He said he screened people carefully before they entered the club, including doing a pat-down for weapons and talking with them to see if they act respectfully. He said he was able to maintain tight security inside his club and in the parking lot.
"Ten people are going to touch you before you make it into the door," he said of the club's security measures.
Broader concern
But Capt. David Cobb of the police department takes a broader view of the problem. He said the club's owners might be prepared to deal with their own patrons, but other late-night business aren't.
"I think this is just another one of those things where we'll end up documenting and getting the information on to the City Commission," Cobb said. "That's one of the things they'll weigh when it's time for (liquor) licensing."
Cobb said police concern about the hip-hop night wasn't racially motivated. He said it was a simple fact the club was known to attract people from surrounding cities -- some of whom came to Lawrence just to cause trouble.
"I think the majority of the people that go to those are law-abiding people that want to have a great time," Cobb said. "Then there's a group that comes just to be disruptive. ... We're talking about criminals. We're not talking about color."
Copyright 2018 The Lawrence Journal-World. All rights reserved. This material may not be published, broadcast, rewritten or redistributed. We strive to uphold our values for every story published.