The Fraternal Order of Eagles on Sunday paid a special tribute to a Lawrence Police officer and a firefighter.
Officer Tyson Randall joined the Lawrence Police Department in 1996 and currently is assigned to investigate sex and violent abuse crimes against children in addition to other major crimes.
Byron Miller, a firefighter and emergency medical technician, has been with Lawrence-Douglas County Fire & Medical Department since 1985. He is noted for his experience and specialties with the county's underwater recovery unit and his ability to design computer programs to track equipment use.
Randall received the Eagles' Reverence for Law Award, while Miller received the Excellence in Fire Prevention and Medical Service Award. The awards were presented during a banquet at the Aerie 309 FOE Lodge, 1803 W. Sixth St. It was the 26th time the FOE has presented the public safety awards. The FOE also was celebrating its 102nd anniversary. About 50 Eagles, firefighters and police officers attended the event.
Miller described the award as something that would motivate him to work harder.
"I think there are a lot of people who deserve this type of recognition in our department," Miller said.
But when a firefighter is selected by those who work with him "that says a lot," said Fire & Medical Deputy Chief Mark Bradford. He said Miller had often gone beyond his normal duties.
Randall said the award was a reminder that he was still just one person on a larger team of police officers. "I look forward to working harder for the team and everyone involved," he said.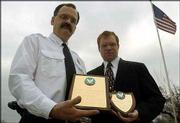 Police Chief Ron Olin described Randall as hard-working, unsung hero.
"We rely on people like Ty to do the bulk of the work," Olin said."
Copyright 2018 The Lawrence Journal-World. All rights reserved. This material may not be published, broadcast, rewritten or redistributed. We strive to uphold our values for every story published.