Phil Dwyer drove down Kasold Drive earlier this week with little damage to his vehicle from the pothole-cratered road, but he knew other drivers wouldn't be so lucky.
"I said, 'The alignment business is going to be good tomorrow,'" said Dwyer, owner of D and D Tire in downtown Lawrence.
Sure enough, Dwyer said this week his mechanics had seen "lots of bent rims, ruined tires and bad alignments" from cars that had made rough trips through the legion of potholes on city streets.
Chuck Soules, the city's public works director, said the sudden crumbling of city streets was the result of quick warming after last week's snow and rain.
"Expansion, contraction, freeze, thaw and the water -- that works on down to the base (of the road) and eventually what you end up with is a pothole," Soules said.
He sent a team of more than 20 city workers out Sunday to begin street repairs and respond to the "many" calls to City Hall's pothole hot line. Weather permitting, fixing potholes could be a full-time job for city crews through the end of the week.
"We'll continue to stay out until we get them all patched," Soules said.
The worst stretches of road, he said, were among the most-traveled in town. Iowa Street between Sixth and 15th streets had a high number of potholes. Sections of Sixth Street and Wakarusa Drive also were having problems.
"It's just constant," Soules said. "We start with a tiny bump, and it keeps beating on the same spot and eventually a pothole appears."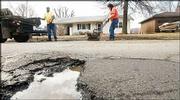 Kasold Drive between 15th and 23rd streets might be the worst stretch in town.
"I've noticed lost hubcaps and, living this close, it sounds like thunder at night," said Margie Hinkle, who lives near Kasold Drive and 10th Place.
She added: "Since we know where (the potholes are) at, we try to go right down the middle of the road."
Kasold Drive has long been one of the more pothole-prone streets in town, Soules said, because the road wasn't designed to drain efficiently. Instead, rains deteriorate the base underneath the road. City Hall has budgeted $3.7 million to rebuild Kasold between 15th and 22nd streets, a project that could get under way this fall.
Hinkle wasn't sure how well the streets were being repaired.
"I do know they've been out here (repairing) some big ones over here, and just a day or two later they're big chuckholes again," Hinkle said.
But Soules said until the weather improved for a long stretch, crews were using temporary "cold mix" patches to fill potholes. Those fixes often don't stand up to the beating of constant traffic.
"It appears like we're spending money good after bad, but at times it's all we can do until we get into decent weather where we can go in and make the appropriate fixes," he said.
To report a pothole in need of repair, call the city at 832-3456.
Dwyer, meanwhile, had little advice about how to protect cars from pothole damage.
"Try to avoid them," he said, "which is about impossible on Kasold."
Copyright 2018 The Lawrence Journal-World. All rights reserved. This material may not be published, broadcast, rewritten or redistributed. We strive to uphold our values for every story published.