Weeks after tsunami waves devastated southern Asia, Lawrence school children continue to pitch in their birthday money and raid piggy banks to help out.
Students, teachers and staff at Langston Hughes School, for example, have contributed nearly $2,000 to the American Red Cross, part of more than $70,000 in tsunami-related Douglas County donations to the organization.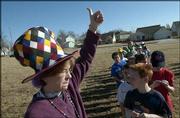 "I was going to be really impressed with these kids and thrilled if they got $300, $400," said school counselor Kim Jennings.
Friday was Hat Day at Prairie Park School, where students and staff could pay $1 to wear a hat to school with the proceeds going to the Red Cross Tsunami Relief Fund.
The outpouring has impressed Jane Blocher, executive director of the Douglas County chapter of the American Red Cross.
"We've had birthday party money, Christmas money from children," Blocher said. "It's a good lesson in philanthropy at a very young age."
Overall, the Douglas County chapter of the American Red Cross has received $35,000 for tsunami relief.
The sum doesn't include money from Douglas County donors who gave through the organization's national Web site, Blocher said. She expects that amount to be more than $35,000, pushing total giving from Douglas County beyond $70,000.
The tsunami had killed 158,000 to 178,000 as of Wednesday, with an estimated 142,000 people missing.
Blocher said she's encouraged to see how many children donated money, including a sixth-grader and a ninth-grader who both gave $250 from their savings accounts.
Langston Hughes students were asked to give up buying something -- or forfeit having their parents buy them something -- and give the money to tsunami victims instead.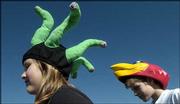 "The idea was to promote that they gave something up of themselves," Jennings said.
Disabled and elderly people have come to the Red Cross office and said they were on fixed incomes, Blocher said.
"They'll say, 'I can't give much, but I want to give something,'" Blocher said. "They're determined."
Other schools donating money to relief groups are:¢ Bishop Seabury Academy, with nearly $800.¢ Hillcrest School, with more than $600.¢ Schwegler School, with about $450. That includes $50 from the Lawrence Police Department.¢ Prairie Park School, with nearly $310. Students, teachers and staff raised money by paying at least $1 each to wear a hat to school Friday. Wearing hats during school is normally banned.Free State High students will start raising money for tsunami survivors next week.
Copyright 2017 The Lawrence Journal-World. All rights reserved. This material may not be published, broadcast, rewritten or redistributed. We strive to uphold our values for every story published.