The crowds are getting bigger. And noisier. And the Kansas University women's basketball team is winning at a record-setting pace.
It's getting so the Jayhawks are starting to edge into the spotlight normally occupied entirely by their male counterparts at Allen Fieldhouse. Just ask Carol Shannon.
The Topeka woman and her family have season tickets to men's games. But after the hot start of the KU women, Shannon has listened to several games on the radio, and her family plans to attend the KU women's game against Missouri later this season.
"It's hard to be 10-0. I don't care how good your team is," Shannon said while shopping downtown Thursday.
The women's team can become 11-0 -- breaking the 1991-92 team's record for season-opening wins -- if it defeats La Salle University at 7 tonight at Allen Fieldhouse. The game will be televised on Sunflower Broadband Channel 6.
The winning streak may have influenced not only attendance, but also the crowd's spirit. A season-high 3,622 fans witnessed Wednesday's 73-60 home victory against Pepperdine.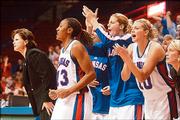 "It was a little different crowd than what I had seen in quite awhile. They made noise," said Kyle Cornish, a student assistant for media relations in the KU athletics department.
Many fans have lauded second-year KU coach Bonnie Henrickson for this season's success. After Wednesday's win, Henrickson mentioned that the fans' rowdiness provided energy to her players.
"This is a good time for us," she said. "There's a little bit of a buzz. That was the loudest it's been since maybe the K-State game last year."
The buzz also can be heard in downtown Lawrence.
Some customers are starting to talk more about the team, said Willie Wilkerson, manager of Jayhawk Spirit, 935 Mass. He said he also noticed more store traffic on days of women's games.
"I can tell that the clientele got a lot better Wednesday," Wilkerson said.
Brian Hoffman, owner of Sports Dome, 1000 Mass., said the same was true for his store. However, people's chatter about the women's team still has to compete with attention to the KU men.
"We've had a few talk about it, but not as much as we should about a 10-0 team," he said.
Sports Dome employee Kristen Hertlein is a Kansas State University graduate, and she has watched the KU women play several times this season.
The K-State women's team has overshadowed the Jayhawks on the court lately, but that may be changing.
"I don't know," Hertlein said. "This year will be close."
Copyright 2018 The Lawrence Journal-World. All rights reserved. This material may not be published, broadcast, rewritten or redistributed. We strive to uphold our values for every story published.