A new downtown luxury condominium building has been marred repeatedly by graffiti in recent days.
"I had no idea it was going to be this kind of a problem," said Bo Harris, developer of the $9 million Hobbs Taylor Lofts in the 700 block of New Hampshire. "It's very frustrating that somebody can actually get away with it. I just wish I understood what the point was."
The first batch of graffiti appeared between Dec. 16 and 19 on the Hobbs Taylor building and across the street at 745 N.H., which houses a handful of businesses. This past weekend, a different design of graffiti was painted along the 700 block of New Hampshire - including on the lofts building - and on Eighth Street between New Hampshire and Massachusetts streets.
Harris said he didn't yet know details of what it would take to remove the graffiti, but he expected it to be costly.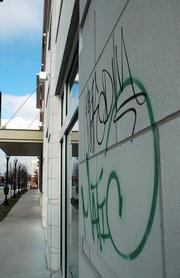 "Our maintenance company is consulting now to find the best way to permanently remove it," Harris said.
Carol Roberts, a resident of the Hobbs-Taylor lofts, said the graffiti wasn't the first incident of vandalism at the building.
"There's been some minor damage," she said. "Right after we moved in, somebody threw a brick through the door."
Harris also said that during construction of the lofts, someone tore up the sod that had been laid around the building.
A few of the other establishments hit by graffiti in recent days include Static Hair Salon, 12 E. Eighth St., the Bottleneck, 737 N.H., and the back of Teller's, 746 Mass.
Graffiti removal is the responsibility of the property owner under city code. Normally, property owners have 14 days to remove a piece of graffiti after being notified of it.
If the graffiti isn't removed by then, the city arranges for its removal and bills the owner.
Copyright 2018 The Lawrence Journal-World. All rights reserved. This material may not be published, broadcast, rewritten or redistributed. We strive to uphold our values for every story published.