Chicken with cashews in won ton cups, known in Thailand as gai phad med ma-muang, are quickly prepared and make very tasty hors d'oeuvres.
Using ground chicken or turkey makes them an inexpensive treat, recipe developer Pam Simmons points out. Red curry paste and pineapple with lime juice make them irresistible, too, she adds. Her taste-testing team kept coming back for more, so she recommends allowing four to five pieces per serving.
For easy last-minute preparation, note that you can bake the won ton cups up to a week ahead, and the filling can be made up to three days ahead and reheated just before serving. You will need mini muffin tins (coated work best).
(For cups, 10 minutes assembly, 6 to 8 minutes baking time; for filling, 20 minutes assembly, 15 minutes cooking time)
Chicken With Cashews In Won Ton Cups
28 to 30 square won ton wrappers (see note)
2 tablespoons oil
1/2 cup chopped cashews
1/2 cup pineapple chunks in juice cut in quarters, or pineapple tidbits in juice (reserve 2 tablespoons juice)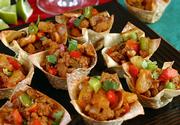 10 ounces ( 1/2 package) ground chicken or turkey
2 teaspoons Thai fish sauce
2 teaspoons Thai red curry paste
1/2 cup minced onion
1/3 cup minced red peppers
1/3 cup minced green peppers
2 tablespoons ketchup
1 tablespoon lime juice
Optional: chopped cilantro
To prepare the cups:
Preheat oven to 375 degrees.
Lay won ton wrappers inside muffin tins. With slightly dampened fingers gently press won tons down inside of cup and against sides, conforming to pan shape. Bake a few more than needed, just in case some collapse or break. Bake 6 to 8 minutes or until lightly browned. Remove won ton cups from tins and cool on wire racks. If not using immediately store cooled cups in airtight containers. Cups will keep crispy for 1 week.
To prepare the filling:
Heat 1 tablespoon oil in a large nonstick skillet, over a high heat. Pat pineapple dry with paper towel, and add to pan with cashews. Cook, stirring occasionally, until slightly browned. Drain and remove to plate, leaving as much oil in pan as possible. Add remaining oil to skillet. Add ground meat, fish sauce and curry paste. Stir-fry 2 to 3 minutes, breaking meat clumps into small pieces. Cook until paste is dissolved and fragrant. Add onions, peppers, ketchup and reserved pineapple juice. Stir-fry until meat is cooked through and sauce is thickened. Stir in lime juice and reserved nuts with pineapple. Cook 1 minute to combine flavors.
Just before serving, fill cups with 1 tablespoon of filling and sprinkle with cilantro.
Note: Won tons usually come in a 12-ounce package, found in the produce section. Filling can be made 3 days ahead and reheated just before serving.
Makes 28 to 30 hors d'oeuvres.
(Recipe from "A Taste of Thai"/Andre Prost)
Recipes and information on the Web: http://www.atasteofthai.com.
Copyright 2018 The Associated Press. All rights reserved. This material may not be published, broadcast, rewritten or redistributed. We strive to uphold our values for every story published.