Leigh McHatton shopped for an apartment Friday.
"I'm really looking forward to returning to Lawrence," she said.
McHatton, 24, suffered serious burns to her hands, feet and face while fleeing the Boardwalk Apartments fire, which left three tenants dead and 20 injured.
"I'm still in physical therapy," she said, "but it's going well."
After a stint at the University of Kansas Medical Center in Kansas City, Kan., McHatton spent several weeks recovering at her parents' home in Logan County, about 50 miles from the Colorado border.
Surviving the blaze, McHatton said, has increased her appreciation of life.
The Oct. 7 fire killed three people - electrician Jose Gonzalez, social worker Yolanda Riddle and Kansas University student Nicole Bingham - and injured 20. A Boardwalk Apartments resident, Jason Rose, has been charged with arson and murder.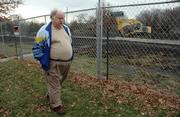 "It was a terrible experience," McHatton said, "but there were a lot of positive aspects. I enjoyed a lot of support from my family and from the community. It made me grow up a lot faster than I would have preferred, but I feel like I'm a much stronger person. I'm much more appreciative of being alive."
Other survivors share similar sentiments, said Jane Blocher, executive director of the Douglas County Chapter of the American Red Cross.
"In the days and weeks that followed the fire, the most remarkable thing we gleaned from the experience was how upbeat and positive people were," Blocher said.
"We didn't hear any bitterness or anger," she said. "Everyone was just so grateful to be alive and safe."
The Red Cross, Blocher said, helped all but a few of the survivors.
"We helped everyone who came forward," she said. "Three or four chose not to."
Bill Lee, 59, lost everything, including the thousands of records, tapes and CDs he had hoped would someday be the nucleus for the Kansas Rock and Roll Hall of Fame he has proposed forming.
"I lost a lot of stuff. I probably had a thousand albums, four to five thousand 45s, and at least a hundred reel-to-reel tapes. I had live, in-the-studio stuff that had never been released," said Lee, a former disc jockey.
"But you know what? I had three neighbors who lost a lot more than I did."
Turning philosophical, he added, "We like to think we own stuff, but as we go through life our stuff starts to own us. It starts to define us. It did me."
The fire changed that.
"I keep things in perspective now," he said.
Boardwalk Apartments Fire
More on the Boardwalk Apartments Fire
Copyright 2018 The Lawrence Journal-World. All rights reserved. This material may not be published, broadcast, rewritten or redistributed. We strive to uphold our values for every story published.