The calendar says a major holiday is upon us which means some big, local story is bound to break today.
Well, that's not 100 percent guaranteed, but forgive me for approaching Christmas 2005 with a bit of trepidation.
After some major holiday interruptances of the recent past, I'm not only a bit gun-shy, but also mentally prepared to tackle any stop-the-presses type craziness that might crop up on Christmas Eve, Christmas Day and/or New Year's Day.
Over a cup of eggnog, I got to reminiscing with some pals the other day about how many weird, wild, wacky things have forced me to grab pen and notebook on occasions just about everybody else was celebrating, vacationing, worshiping or partying.
So, on what so far has been a slow news day -- in an attempt to fill some space in this massive paper and maybe make at least one of you smile -- let me list a few of my holiday inconveniences for you.
Christmas Eve, 2004 (yup, last Christmas): Always energetic, ever-vigilant Shay Wildeboor of rivals.com gave me an early, 7 a.m. wake-up call, the red light on my cell phone catching my eye, flashing what I knew had to be an urgent message.
Seems one of Shay's Web site subscribers from the West Coast called him early on to inform him the Seattle Times penned a lead story concerning KU basketball signee Micah Downs of Kirkland High in Washington.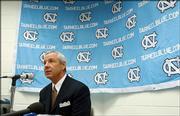 The story was not a puff piece. It was a hard news story indicating Downs had decided to forego college and enter the 2005 NBA Draft.
After taking more than a few deep breaths, I hopped out of bed, grabbed my Rolodex, looked up a number, and started phoning Micah's dad, Steve.
Upon reaching him midafternoon, instead of watching "It's A Wonderful Life," A Christmas Carol" or "Christmas Story," I batted out stories -- first for our Web site, then the newspaper -- rebutting the Times story. Micah, it seems, was not planning on turning pro, but considering turning pro if he was guaranteed to be chosen in the first round. Big difference.
As I recall, I was still able to attend Midnight Mass at St. John's, so all's well that ended well, I guess.
Of course, on Christmas Day I had to file a follow-up story on the Downs (or)deal.
Thanksgiving Eve, 2004: It was 11:30 p.m., Thanksgiving Eve, when I received a tip via cell phone that USC freshman Rodrick Stewart had decided to transfer to KU.
So from my parents' house in suburban Chicago -- where I'd flown home earlier that day to enjoy some turkey, dressing and family fun -- I reached Stewart on his cell.
It was just 9:30 Pacific time when Stewart gleefully confirmed to me, yes, indeedy he was coming to KU.
I did a quickie interview confirming his decision to transfer, phoned the office and dictated a story into the phone to the J-W's Andrew Hartsock, who worked some last-second magic in rearranging the paper to make sure the story was prominently displayed.
On Thanksgiving -- after devouring turkey at halftime of the Dallas Cowboys game -- I wrote a long profile on Stewart on my dad's computer, e-mailing the story to the paper.
Ah holiday vacations ... gotta love 'em.
Easter Sunday, 2003: April 20 was the day everybody in the world learned that, for sure, Bill Self would be named Roy Williams' successor at KU.
Self, conscientious guy that he is, however, didn't think it was appropriate to hold his introductory press conference on Easter, which I sort of understood.
A press conference instead was slated for Monday.
Problem is ... without a media session, rabid reporters like myself were forced to camp out at Allen Fieldhouse all day, interviewing everybody in sight about Self's impending, yet still unofficial, hiring.
After personally seeing Self and his wife depart Allen Fieldhouse in a car and taking part in a parking lot interview with chancellor Robert Hemenway, I decided enough was enough. I made the decision to table the madness for an hour and headed over to St. John's for 5 p.m. Easter Mass. I even turned my cell phone off during the service for 90 minutes of peace.
I only had about five messages to retrieve upon re-booting my phone at 6:30 p.m.
The rest of the evening was spent churning out copy, not about the Easter bunny, but about KU's new mentor.
Fourth of July, 2000: Fireworks were not on my agenda this day.
On the contrary.
Former J-W photographer Earl Richardson and yours truly spent the day and evening in and around a Durham, N.C., hotel chasing the Roy Williams "Will he stay or will he go to North Carolina -- Part One" saga.
Williams -- I forgive you, Roy -- spent the night of the 4th watching fireworks at his summer beach house in South Carolina as he tried to decide whether to leave KU for his alma mater.
What about myself and Earl? We ate dinner at a burger joint next to the Hampton Inn for the third straight day after interviewing some of Williams' old neighbors in Chapel Hill, awaiting the day Williams would tell the world he was not returning to his alma mater, not until 2003, anyway.
Christmas Day, 1995: Like Charlie Brown, I received a lump of coal in my stocking this morning.
I turned on the TV and, like the rest of Jayhawk nation, learned in a pre-game Aloha Bowl interview former KU football coach Glen Mason, who earlier had accepted the Georgia coaching job but was allowed to lead KU one final time in the bowl, decided instead to remain at KU.
This affected my holiday greatly because my job was to work the desk that day/evening, meaning I was in charge of designing about seven pages of bowl coverage from Hawaii with equally competent, yet equally shellshocked Chuck Woodling, my desk help that night.
I arrived at work at 2 p.m., about two hours before I was supposed to, well before halftime of the game and immediately fielded a phone call from an editor asking how the coverage of the Glen Mason story was progressing:
Uh ... "Merry Christmas to you too. I just got to work," was my festive reply, my fist smashing into a one of those big containers of popcorn given from some corporate sponsor.
Gee, thanks for that pleasant Christmas Day, Glen.
Ah, holidays ... I love em, when nothing's going on.
Have a Merry Christmas today, folks, and wish for my sake NOTHING'S GOIN' ON!
Copyright 2018 The Lawrence Journal-World. All rights reserved. This material may not be published, broadcast, rewritten or redistributed. We strive to uphold our values for every story published.