After nearly two decades at Indiana University-Bloomington, Joseph Steinmetz is coming to Kansas University, where on July 1 he will take over as the new dean of the College of Liberal Arts and Sciences, KU's largest school.
"I think it's a wonderful Christmas present," KU Provost David Shulenburger said.
Steinmetz, 50, is executive associate dean of the College of Arts and Sciences at Indiana University.
He will make $205,000 at KU with the standard benefits package, Shulenburger said. Steinmetz replaces Kim Wilcox, who made about $180,000 before departing for a provost's position at Michigan State University.
Steinmetz "has proven academic leadership at a major research university and is widely regarded as a dynamic leader with clear vision," Mabel Rice, professor and chairwoman of the search committee, said. "He enjoys widespread respect and appreciation of his leadership style. He will bring a fresh perspective, positive energy and strong commitment to the role of dean."
Steinmetz said once he becomes familiar with the departments and programs he plans to engage the college in a strategic planning process.
"I'm really big on strategic planning and faculty and student input in that process," he said.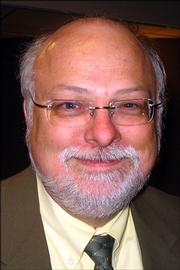 Steinmetz began his academic career at Indiana University in 1987, when he joined the psychology department as an assistant professor. He was promoted to associate professor and tenured in 1991 and then promoted to full professor in 1995. From 1995 to 2005, Steinmetz served as chairman of the psychology department.
Shulenburger said Steinmetz turned Indiana's psychology department into one of the top psychology departments in the nation.
"I think we'll see replications of that here as well," Shulenburger said. "(KU's) college is just absolutely wealthy with wonderful faculty and strong programs. Joe will be able to help those faculty find even greater ways to develop their scholarship and will help us make our programs even stronger."
Steinmetz said he wants KU to maintain and enhance its many areas of excellence, to make better connections with the medical school and other branches of the university, and to work for faculty and student diversity.
As for leadership, Steinmetz said: "It's very important that the dean be the person that aggressively leads the faculty forward."
Asked whether he plans to stay awhile at KU, Steinmetz noted he had worked at Indiana University nearly two decades and did not foresee a short stay at KU.
"I don't have future plans to do anything else," he said.
Steinmetz earned a bachelor's in psychology and chemistry and a master's in experimental psychology from Central Michigan University in Mount Pleasant. He received his doctorate in physiological psychology from Ohio University in Athens.
As Indiana's executive associate dean for the college, Steinmetz was responsible for the day-to-day management of the college's budget, leading the college's promotional committee, overseeing faculty recruitment and hiring, and representing the college on several campuswide committees involved mainly in faculty development, financial matters and college fundraising.
Steinmetz's wife, Sandra Steinmetz, is a special education teacher. They have two children and one grandchild.
Copyright 2017 The Lawrence Journal-World. All rights reserved. This material may not be published, broadcast, rewritten or redistributed. We strive to uphold our values for every story published.