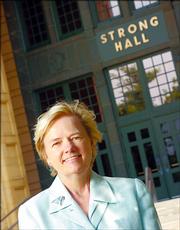 Barbara Romzek considers her challenge to be clear.
She needs to position Kansas University's College of Liberal Arts and Science well so no momentum is lost.
"The university already is very strong," Romzek said. "But we can't rest on our laurels. We have to build on the strength of our faculty and the strength of our students."
Romzek took over as interim dean of KU's College of Liberal Arts and Sciences on July 1. She has served as associate dean of the College of Liberal Arts and Sciences since 2000.
She was selected to lead the university's largest academic unit while officials search for a permanent dean. Former CLAS dean Kim Wilcox left the university to become provost at Michigan State University.
Romzek said she wanted the new dean to take over a college that has maintained energy.
The College of Liberal Arts has more than 50 departments and programs, 650 faculty members and 17,000 students.
A professor of public administration, Romzek has been at KU since 1979. She was chairwoman of the university's team for its 10-year reaccreditation review and chaired the public administration department from 1988 to 1993.
Her time as a professor of public administration allows Romzek to easily make the transition into leadership roles.
"It's a lot like doing fieldwork," she said. "But it's fun as well."
Restructuring the undergraduate services office to provide better advising for juniors and seniors is among Romzek's priorities as interim dean.
"We want to make sure students make informed decisions when selecting courses," she said. Students should receive advising about when classes will be offered and allow them to graduate from KU in a timely manner, Romzek said.
She also plans to have focus groups with students to find out what they would like to see enhanced to improve the college experience.
Much of the summer was spent planning what classes would be offered next year.
"Most people tend to think universities are quiet in the summer," Romzek said. "Students go home. Less classes are offered. But for administrators, it's a busy time of the year."
Time will be spent figuring out class loads for professors and making decisions on where new professors should be hired.
Copyright 2018 The Lawrence Journal-World. All rights reserved. This material may not be published, broadcast, rewritten or redistributed. We strive to uphold our values for every story published.