Once a year, Lawrence school officials pick a teacher worthy of representing the district in the Kansas Master Teacher Award Program.
The district's 2005-06 nominee: Gerry Bukaty.
"What this really means, I think, is that I've been blessed with some great kids, great parents and some wonderful principals," said Bukaty, a third-grade teacher at Sunflower School for the past 12 years.
Earlier, Bukaty taught first, third and fourth grades at Cordley School for seven years. She also taught for 11 years in the Tonganoxie and Kansas City, Kan., school districts.
Bukaty was nominated by a private-sector representative, a former student and four parents. They praised her in their nominations:
¢ "She challenges children to do their very best," said Jackie Ferguson, a parent.
¢ "I don't think there would be any way to forget her - from explaining to kids about her home life and dogs, to reading the best books for read aloud, to teaching multiplication. If a student didn't understand something, even just a little bit, Ms. Bukaty would be at their side explaining it over again," wrote Hilary Ferguson, a former student of Bukaty's who's now in the sixth grade.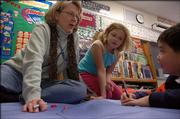 ¢ "She has helped raise thousands of dollars" for the Lawrence Humane Society, said shelter executive director Midge Grinstead.
An unabashed dog lover, Bukaty and her students have an annual Valentine's Day necklace-making fundraiser that teaches mathematics, art and business.
"We raised $850 last year," Bukaty said, adding that many of her former students have remained interested in the shelter.
A graduate of Kansas University, Bukaty isn't easy on her students.
"We do lots of homework," she said. "A lot of changes occur in the third grade, and homework is definitely one of them."
But with work, she said, comes success.
"Oh, I just love working with kids," she said. "Every day is a new and exciting adventure. There are a lot of challenges, but they keep you young. They keep you on your toes."
One of the biggest challenges, she said, has been finding enough time to do all that needs to be done.
"(Teaching) is a very demanding profession. It's not something you leave at the end of the day," she said. "At night, you're either grading papers, calling parents or planning for the next day."
Another challenge is reaching each student.
"I have 21 students this year," she said. "Normally, I have 25 to 30. I truly believe that if there was a way to get that number down to 15 or 18, we would be amazed how far we could take them."
Bukaty praised her past and present principals.
"I came here (Sunflower) the year it opened because my principal at Cordley, Janet Broers, was coming here, and I just loved working with her. She's since retired," Bukaty said. "Jill Smith is principal now, and she's just an incredibly hard worker - very organized and very supportive.
"Like I said, I'm blessed."
The Kansas Master Teacher Award Program is coordinated by Emporia State University.
In February, a committee will select seven honorees. Committee members include representatives from the state teachers' association, the Kansas State Board of Education, Kansas Association of School Boards, United School Administrators and the Kansas Congress of Parents and Teachers.
Pat Grzenda, an adapted physical education teacher with Lawrence's special-education program, was one of the seven Kansas Master Teachers in 2003-04.
Lawrence's master teacher award is separate from its teacher-of-the-year honors, which are announced in the spring.
Copyright 2018 The Lawrence Journal-World. All rights reserved. This material may not be published, broadcast, rewritten or redistributed. We strive to uphold our values for every story published.