The weather outside won't be very frightful this weekend, so forget about any dreams of white Christmases.
"Doesn't look like it is going to happen," Darrel Smith, meteorologist with the National Weather Service in Topeka, said about the chances of a white Christmas.
And that goes not just for Lawrence but the entire state, Smith said.
"There's going to be a big warm-up," Smith said.
In the Lawrence area on Saturday - Christmas Eve - temperatures will be in the 40s, according to 6News meteorologist Matt Sayers.
White Christmases are a rarity in Kansas and in most areas of the country, meteorologists say. There is generally an 11 percent to 25 percent chance in a given year that most of northern Kansas, including Lawrence, will see a white Christmas, according to the weather service.
The last time Lawrence saw a white Christmas was 2000, when there were a couple of inches of snow on the ground, according to the Kansas Climatologist's office at Kansas State University. Weather records show that about once every five years there might be snow on the ground in Lawrence on Christmas.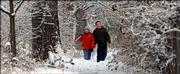 But whether you want a white Christmas or not, a little snow this time of year gets people in the mood for the holidays, said Mark Swanson, owner of Hobbs Inc., a specialty store at 700 Mass. While it doesn't necessarily increase store sales, a little snow improves attitudes of last-minute shoppers, he said.
"As long as it doesn't snow a hundred inches and make things inconvenient," Swanson said. "Snow to create attitude is wonderful. On the flip side, I'm the guy who has to shovel the sidewalk out here and I don't look forward to that too much."
Believe it or not, all meteorologists do not wish for snow or even white Christmases. Smith said he liked the snow when he was a child because he got out of school. But he's not much of a snow fan now, even if it spices up a weather forecast. "It does make things interesting, but it also makes a lot of headaches for adults," he said.
Copyright 2018 The Lawrence Journal-World. All rights reserved. This material may not be published, broadcast, rewritten or redistributed. We strive to uphold our values for every story published.