Baldwin — When voters here go to the polls Thursday to decide whether they'll allow Sunday liquor sales in town, a big chunk of the community's population will be missing: Baker University students.
They'll be home on Christmas break.
"It really affects the students more than it affects anybody else," said Samantha Hewitt, a Baker University student frustrated with the election's timing. "I really think they should be here to vote on it because a lot of them would."
But City Administrator Jeff Dingman said the timing couldn't be helped. The vote was brought about by a protest petition filed by residents after the council approved Sunday sales; once the petition was found valid on Nov. 17, Baldwin officials had 45 days to stage a vote.
"The sentiment amongst the council members was that having it before the Christmas holiday, and that week of limbo time, was more acceptable than after Christmas when people would be more likely to be out of town," Dingman said last week.
That Baldwin voters are even considering the issue shows how times have changed.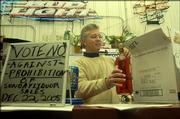 Dry history
In 1858, the Kansas Educational Association of the Methodist Episcopal Church sold lots to raise money to build the college that became Baker University. The lots became the town of Baldwin.
That original section stretched from First to 11th streets and Ames (U.S. Highway 56) to Lincoln streets.
Those lots still carry a deed restriction designed to "prohibit forever said lots" from being used for making or vending intoxicating liquors.
According to the stipulation, a violation of the restriction would cause the properties to be returned to the Kansas Educational Assn., which merged in 1988 with the Baker University Board of Trustees.
But the proviso has never been invoked. And Baker President Dan Lambert said in August that university administrators "have confidence in city administrators in these matters."
Ballot text
Proposition 1 Shall the following be adopted: "Within the city of Baldwin City shall sale ate retail of cereal malt beverage in the original package be prohibited on Sunday and shall the sale at retail of alcoholic liquor in the original package be prohibited on Sunday, Memorial Day, Independence Day and Labor Day?"
A "yes" vote is against Sunday sales. A "no" vote is for Sunday sales.
Steve Larrick, owner of Cool Cat Liquor, has been pushing for Sunday sales.
"I'm just wanting the choice to be open," he said. "And I've received a lot of requests from customers to be open on Sunday."
Opposed
Joyce Callahan, owner of Callahan Liquor, opposed the council's vote to legalize Sunday sales - an initial vote was taken when the matter wasn't on the agenda publicized ahead of time. She said Baldwin residents should decide the matter.
"What I'm against is the way it was forced through the city council," she said.
Others, Callahan said, have different problems with Sunday sales.
"No. 1, it's a family day," she said of the opponents' arguments. "No. 2, a lot of people go to church. No. 3, it isn't necessary."
Callahan was skeptical whether she'd open on Sundays; there probably wouldn't be enough business to be profitable, she said.
Both sides are concerned about the wording of the ballot question; to vote for Sunday sales, the ballot should be marked "no." A "yes" vote will be against Sunday sales.
"When they see that ballot, I don't know what they're going to do," Callahan said of voters. "I don't know what they're going to do."
Votes will be counted Thursday night at Baldwin's American Legion Hall.
Copyright 2018 The Lawrence Journal-World. All rights reserved. This material may not be published, broadcast, rewritten or redistributed. We strive to uphold our values for every story published.