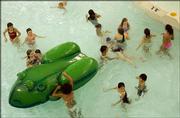 Jeffrey Moses had never been to a Christmas party where he could wear his swimming trunks.
But Moses was one of about 240 children who attended the 54th annual Bromelsick Christmas Party on Saturday at the Lawrence Indoor Aquatic Center.
"It's pretty cool," said the 11-year-old Boy Scout from Eudora.
The bash has became a Lawrence mainstay after businessman Alfred Bromelsick died in 1950 and left his estate to Boy Scouts, Girl Scouts and 4-H organizations.
His will stipulated that the organizations have the party each year for children, complete with a Christmas tree, carols and treats, said Arthur "Tripp" Anderson, an assistant scoutmaster for Boy Scout Troop 59.
The aquatic center played host to the party for the second year in a row, as the kids and their parents braved the snowy weather Saturday night.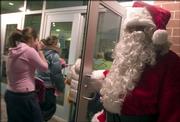 "The kids get involved this way, and they can play with their own friends and have a pretty good time getting two hours of exercise in the dead of winter," Anderson said.
Organizers said the weather did influence attendance because, in the past few years, more than 1,000 children have attended.
"I enjoy just seeing all of the groups get together," said Martha Rose, a Girl Scout representative and longtime organizer of the event.
Cindy Riling, another Girl Scout representative and event organizer, said many parents brought their kids to the party and talked about attending it when they were younger.
Copyright 2018 The Lawrence Journal-World. All rights reserved. This material may not be published, broadcast, rewritten or redistributed. We strive to uphold our values for every story published.