Recent snowfall finally broke in the city's snow plows.
It also tested the ability of Lawrence drivers to maneuver in slick road conditions.
We did pretty well. Lawrence Police responded to 60 wrecks in Douglas County during the first snow earlier this month, mainly dings and fender-benders, and about that many with Saturday's snow.
Still, we all could use a refresher course now and then - especially early in the season.
Here are some tips from law enforcement officials and driving instructors to keep you safe on the road the next time snow and ice hit: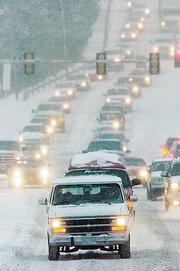 ¢ Watch the weather forecast and only travel when absolutely necessary if inclement conditions are expected.
¢ Allow plenty of travel time to avoid hurrying on the road.
¢ The Federal Emergency Management Agency suggests having a mechanic check the following items on your car each winter: battery, antifreeze, wipers and washer fluid, ignition system, thermostat, lights, hazard lights, exhaust system, heater, brakes, defroster and oil level. Also make sure tires have adequate tread for winter.
¢ Fully clear front, back and side windows, as well as mirrors and lights. Also brush off snow from the hood, roof and trunk. "People have been killed because they did not have the vision that was necessary to drive safely," says Lt. John Eichkorn of the Kansas Highway Patrol.
Winter survival kit
The Kansas Highway Patrol recommends that winter motorists arm themselves with a survival kit that includes at least the following items: ¢ Ice scraper and shovel ¢ Jumper cables ¢ Flashlights with extra batteries ¢ Sand or kitty litter for traction ¢ Extra clothing or blankets ¢ Nonperishable food ¢ Water ¢ First aid kit ¢ Matches and candles or flares ¢ Towrope or chain
¢ Accelerate slowly from a stop and slow down early when approaching an intersection. Use lower gears to help increase traction and reduce tire spin during stops and starts.
¢ Follow Kansas speed law, which posts a speed limit but requires drivers to adjust speed so that it's "reasonable and prudent for existing conditions," says Brenda Soldani, drivers education coordinator for the Lawrence school district. "If you are going down Clinton Parkway and it's freezing rain and it says 40 miles per hour, do you really go 40?"
¢ Increase following distance. Larry Krull, owner of Lawrence's Midwest Driving School, tells his students to allow one car length for every 10 miles per hour, increasing that distance in adverse conditions. Eichkorn of the highway patrol cites the two-second rule. "Obviously when it's snowy, icy, when the roads are wet, we always encourage people to increase that following distance," he says.
¢ Practice defensive driving, especially when approaching intersections. Be aware of vehicles that look likely to slide through the intersection. Allowing other motorists to make mistakes can keep you out of accidents.
¢ Don't use cruise control in inclement weather, Eichkornsays. Keeping your foot on the accelerator makes you more aware of when you're losing traction and need to react.
If you get stranded
Don't panic if you find yourself stranded in a winter storm. Stay in the vehicle, keep fresh air circulating through a downwind window, run the motor sparingly, turn on the dome light, and stimulate circulation and stay awake by moving arms and legs. If you leave the car, walk slowly in the snow to avoid over-exertion and the risk of heart attack. If you have a cell phone, you can call a Kansas Highway Patrol dispatcher by dialing *HP (47) or *KTA (582) while on the Kansas Turnpike.
Source: Kansas Highway Patrol
¢ Know your vehicle's brake system. In cars with anti-lockbrakes, drivers should apply steady pressure in low-traction situations. Non-anti-lock brakes should be pumped slowly.
¢ If your car loses traction and begins to slide, steer into the swerve, or in the direction you want to go.
¢ Be especially cautious at intersections, which are likely to be more slick because starting and stopping vehicles melt snow and ice, which constantly refreezes and builds up. Bridges also tend to be more slippery because frigid winds blow below the structure, quickly freezing moisture on the road above.
¢ Young drivers should spend as much time as possible watching how their parents drive in ice and snow. "The more time we spend with younger drivers, supervising them, the safer they're going to be," Eichkorn said.
¢ Always keep your gas tank at least half full and carry a survival kit. "You want to make sure you have materials in case you get stuck: flashlights, blankets, water," says Bill Kennedy, owner of the Drive-Right School of Lawrence. "I always recommend cell phones or OnStar. You want to stay warm, be able to see and contact someone."
Being prepared, exercising caution and being aware of what's going on will go a long way toward keeping drivers safe this winter.
"Always listen to the weather reports and anticipate," says drivers education coordinator Soldani. "If they say there's a 50 percent chance of snow, make sure that you have gas in your vehicle, windshield fluid in your vehicle, your heater's working. And by all means, slow down and take your time."
Copyright 2018 The Lawrence Journal-World. All rights reserved. This material may not be published, broadcast, rewritten or redistributed. We strive to uphold our values for every story published.