Here's a riddle for you: Who gets holiday cards from the Dalai Lama and Billy Graham? Need a clue? He's a native Kansan and two-time presidential candidate. As you may have guessed, former Sen. Bob Dole's mailbox is full of interesting holiday cards each December.
Photo Gallery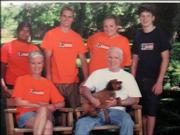 Sen. Bob Dole's Christmas cards
"I'd never realized that the Dalai Lama would send a holiday card," said Jean Bischoff, Dole Institute of Politics archivist.
The Dole Institute of Politics at Kansas University has put the cards on display for the first time.
Bischoff sorted through hundreds before narrowing it down to about 15 for the display. She picked the cards that she found the most interesting and "human."
Liz Johnson, a student intern at the institute, said one of her favorites was Arizona Sen. John McCain's from 2003.
"He's with his whole family in a T-shirt and jeans. We always see him in a suit," Johnson said.
Some of the cards had personal messages inside, including a card from George H.W. and Barbara Bush, which was signed "Merry Christmas, Happy New Year, Peace on Earth, Goodwill to All."
"A lot of the cards did have a spiritual component to them and that did surprise me a little bit," Bischoff said.
The institute is holding a white-glove tour of the archives at 10:30 a.m. today. To secure a spot on the tour, call the institute at 864-4900.
Copyright 2018 The Lawrence Journal-World. All rights reserved. This material may not be published, broadcast, rewritten or redistributed. We strive to uphold our values for every story published.