Brian Fleming is tired of his hometown getting a bad rap.
So Fleming, a Kansas University junior, is glad thousands of Jayhawk fans will be headed to Fort Worth next week.
He wants to show that Fort Worth, where he grew up, is every bit as fun a place to be as Dallas, which is often viewed as the metroplex's marquee city.
"I tell people I'm from Fort Worth," Fleming says, "and they say, 'Is that part of Dallas?' We're 30 miles away from them. We have everything Dallas has, except for professional sports."
Fleming and others say there will be plenty to keep KU fans busy in Fort Worth - and without venturing to Dallas - in the days leading up to the bowl game, where the Jayhawks will take on Houston at 7 p.m. Dec. 23.
"If college kids come down, there's a lot for them to do," Fleming says. "And older people as well."
Photo Gallery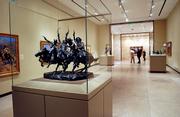 Worth doing in Fort Worth
Headed to KU's bowl game? Here are some tips for how to spend your time away from the stadium.
Brad Korell, president of the Dallas chapter of the KU Alumni Association, says Fort Worth is similar in size and feel to Kansas City. K.C. officials have looked to Fort Worth's downtown revitalization for their own revitalization plans.
There are about 6,000 KU alumni living in the Dallas-Fort Worth metropolitan area, Korell says, and an additional 5,000 living elsewhere in Texas. Korell figures most KU fans making the drive down from Kansas may only spend a day or two extra at the most, considering the bowl game is so close to Christmas.
'Cowtown' pride
For a modern city, Fort Worth holds dear to its cowboy heritage. The historic Stockyards area of the city, which is located near Maine and Exchange streets, pays homage to Fort Worth's days on the Chisholm Trail.
"We take pride that it is a cowtown," Fleming says. "That's why the town was developed."
The Stockyards area has restaurants, shops and bars. The watering holes include Billy Bob's Texas, which bills itself as the world's largest honky-tonk, and the White Elephant Saloon, which was named a top-100 bar in the United States by Esquire magazine.
The area also is home to Joe T. Garcia's Mexican Restaurant, a local favorite that consistently wins awards for its food.
For those who want a Western feel, the Stockyards also have a twice-daily cattle drive, a historical museum and the Texas Cowboy Hall of Fame.
'Cowboys and culture'
A few miles south on Main Street is the Downtown/Sundance Square area, another hub for bars, shops and restaurants.
Greg Staley, director of marketing communications for the Fort Worth Convention & Visitors Bureau, recommends several options for food in that area:
¢ Reata, which is upscale Western cuisine.
¢ Sam & Harry's, a famed Washington, D.C., steakhouse that opened a second location in Fort Worth.
¢ Del Frisco's Double Eagle Steakhouse.
¢ Lonesome Dove Western Bistro.
For those looking for cultural enrichment, Fort Worth offers several nationally known museums, most of which are located in the same area, west of Downtown/Sundance Square.
"Fort Worth has always been called a city of cowboys and culture," Staley says, "and it is forever true."
The Kimbell Art Museum has a special exhibition, "Gauguin and Impressionism," opening this weekend. And the Amon Carter Museum, which is devoted to Western art, has an exhibit of Richard Avedon photographs in addition to its permanent collection, which includes works by Frederic Remington and Charles Russell.
Other museums include the Fort Worth Museum of Science and History, National Cowgirl Museum and Hall of Fame, and the Modern Art Museum of Fort Worth.
A full list can be found at www.fortworth.com.
'Erratic' weather
The Fort Worth Zoo also is among the best in the nation, though the winter Dallas weather might make that a chilly choice.
"Watch the weather forecast religiously," Korell recommends. "The weather changes are so erratic this time of year. I anticipate it will be marginally better than it is in Lawrence."
Fleming, the KU student, says the straight-shot drive to Fort Worth - which takes between seven and eight hours - is short enough that the Jayhawks should have a good showing in the stands against Houston.
"It's an easy trip," he says. "You barely turn the steering wheel."
Fort Worth facts
Miles from Lawrence to Fort Worth: 512 Fort Worth population: 618,600 Population of Dallas-Fort Worth metropolitan area: 5.9 million Kansas University alumni living in Dallas-Fort Worth area: 6,000 Hotel rooms in Fort Worth: 11,700 Annual out-of-town visitors: 8.7 million Average December high temperature: 55 degrees Average December low temperature: 35 degrees Capacity of Amon G. Carter Stadium at Texas Christian University, home to Fort Worth Bowl: 46,000 Average single-family home price: $148,610 Crime: Ninth-safest city of 500,000 population or more Songs about Fort Worth: "Does Fort Worth Ever Cross Your Mind?" by George Strait; "Is Fort Worth Worth It?" by Terri Clark; "Dallas Days and Fort Worth Nights" by Chris LeDoux; "She Came From Fort Worth" by Kathy Mattea; "The Girl on the Front Row at Fort Worth" by Hank Williams Jr. Sources: KU Alumni Association, Fort Worth Convention & Visitors Bureau, Morgan-Quitno Press, Coldwell Banker, National Weather Service, Yahoo! Maps, Texas Christian University, Grace Note
Copyright 2018 The Lawrence Journal-World. All rights reserved. This material may not be published, broadcast, rewritten or redistributed. We strive to uphold our values for every story published.