A bank president and former mayor said she thinks there is room for a new multi-purpose, indoor/outdoor sports center in Lawrence similar to Topeka's Hummer Sports Park. And she said public and private entities might be willing to come together to fund it.
Bonnie Lowe, president of FirstBank, will discuss her ideas with the Douglas County Commission tonight and then meet with the Lawrence City Commission next week. She will be asking the city and county governments and the Lawrence school board to fund a "needs assessment" or feasibility study for such a center.
"I believe this endeavor would be a true public-private partnership, where by the time the feasibility study is completed, then we can sit down and form a master plan," Lowe said Tuesday. "I believe private citizens and corporate sponsors will come to the table and be part of the discussion."
Lowe, who served as city commissioner and mayor in the 1990s, said she began thinking about a sports center after hearing in October that Sport 2 Sport was going to become a tennis-only center. The center for several years has served as a recreation center for local youth sports. It will end its indoor programs in January.
Sport 2 Sport was used by her children and many others in Lawrence, Lowe said. She said she thinks it is important to have a public-private partnership that would not just replace the Sport 2 Sport concept but expand it into other athletic venues. The feasibility study might identify those other venues.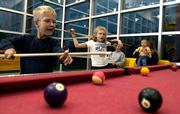 Such a sports center, she said, might be similar to Hummer Sports Park in Topeka. That park, built for $17.5 million after Topeka voters in 2001 approved a bond issue to finance it, is located on the grounds of the former Topeka State Hospital. It has a stadium and other facilities for six sports - football, track, baseball, softball, soccer and swimming.
Lowe has visited several public officials and community leaders to discuss her ideas and hear their views on what is needed for recreation. She said she also thinks such a facility could bring economic benefits to the city. She said she would like to include in the planning process not only the city and county but also the Lawrence Chamber of Commerce and Kansas University.
"I've talked to private individuals whose families use these facilities and the elected officials, and overall, it has been very positive," Lowe said.
Lowe and other individuals have been preparing a position paper on the idea, which she said she expected would be ready for tonight's presentation.
Among the public officials Lowe has talked with is County Commission Chairman Charles Jones. During a commission meeting last week, Jones mentioned the idea to fellow Commissioners Jere McElhaney and Bob Johnson without mentioning Lowe by name. Commissioners said they would be willing to hear Lowe's ideas.
On Tuesday, Jones said he thought Lowe wanted to make sure youngsters have ample recreational opportunities, especially in light of the change at Sport 2 Sport.
"We're open to discussion," he said.
Initial word about a recreation center concerned Rick Sells, owner of the Lawrence Athletic Club. Sells attended the County Commission meeting on Monday saying he was afraid a government-owned recreation center would take away from his business. By Tuesday, his concerns had been eased after a conversation with Lowe, he said.
Lowe said she doesn't think a sports center would get into areas of personal fitness such as individual workout areas, but said that would be a community decision. Personal fitness areas such as aerobics and weightlifting are a key component of Sells' business.
"I think as long as they are going to open up areas for kids, I'm all for that," Sells said.
Lowe said she had talked to three companies that could do a feasibility study, which would cost tens of thousands of dollars. Any discussion of sites and what exactly a sports center would contain would come later.
"We just need to get it started and get this rolling because it could be something that's very important to Lawrence and it's something, frankly, that I feel should have been done many years ago," Lowe said.
Copyright 2018 The Lawrence Journal-World. All rights reserved. This material may not be published, broadcast, rewritten or redistributed. We strive to uphold our values for every story published.