Time is running out for Lawrence social service agencies scrambling to find donations of Christmas gifts and food for families in need.
"I try not to hit the panic button," said Paul Hunt, resources director at the Ballard Center.
On Friday, the center had a list of 72 families without donors to adopt them and provide food and gifts. But by Monday afternoon the list had been reduced to about 50.
"We're making progress," Hunt said.
But many families still need help, Hunt said. Ballard Center, 708 Elm St., with a coalition of other agencies, annually takes part in the Christmas season adopt-a-family program known as the Holiday Bureau. Needy families sign up with the various agencies to be put on a list for "adoption" by other individuals or families. Lists of the families' needs are prepared and then passed on to the donors.
Ballard Center officials hope about 175 families will be adopted this year, up from 150 last year, Hunt said.
At Penn House, 1035 Pa., another Holiday Bureau participant, 56 families still need adoption, Executive Director Linda Lassen said.
"I'm starting to pray a lot," Lassen said. "At this point if people could afford to give a gift card for a family, that would be helpful."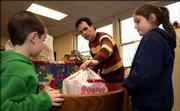 The Penn House list includes some large families as well as families of three and two members, Lassen said. Those on the Ballard Center list are small families or elderly residents, Hunt said. In past years both agencies have been able to meet the needs of all the families.
More than 100 families have been provided for through East Central Kansas Economic Opportunity Corp., or ECKAN, 2518 Ridge Court. ECKAN takes on no more families than it can accommodate. But it has received additional requests from more than 50 other families seeking help for Christmas, said executive director Jeanette Collier, office coordinator.
"We've had numerous families call that we couldn't provide for," Collier said. "So far we're trying to take care of their kids through Toys for Tots as well as provide meals through our food pantry."
The number of families seeking assistance likely is up because of concern about increased winter heating costs and the aftereffects of high gasoline prices earlier this year, service officials said.
The Salvation Army is assisting about 275 families through its toys and clothing distribution center in Building 21 at the Douglas County 4-H Fairgrounds. It especially is running short of toys, said Susan Dalberg, co-administrator of the local Salvation Army, 946 N.H. The distribution center will be open all day through Thursday.
Families who signed up for adoption this year weren't seeking extravagant gifts, agency representatives said. They are seeking things that they need and requesting fewer electronic items, they said. The children, however, still need toys.
Hunt expressed confidence that despite many requests of the public to donate this year for hurricane relief efforts elsewhere, area residents still will come forward in the remaining days before Christmas.
"Lawrence is a generous community," he said.
How to Help
These Holiday Bureau social service agencies can still use the public's assistance in meeting requests of needy families seeking Christmas gift help. Call the agencies first to determine what the needs are and how donations should be made. ¢ Ballard Center, 842-0729. ¢ East Central Kansas Economic Opportunity Corp. (ECKAN), 841-3357. ¢ Penn House, 842-0440. ¢ Salvation Army, 843-4188.
Copyright 2018 The Lawrence Journal-World. All rights reserved. This material may not be published, broadcast, rewritten or redistributed. We strive to uphold our values for every story published.