Tom Lee squinted up at his mother's house, his face silhouetted by the sun's light. There were decorations all over it - strings of dangling lights and plastic angels - but they all needed power to glow.
"We'll just call an electrical engineer if it gets too bad," Lee joked, searching for another extension cord.
Lee and his family spent Saturday afternoon decorating the house of his mother, Maxine, the Lee family matriarch who had decorated the same house at 804 1/2 Maple for decades.
Maxine Lee died Nov. 21. She was 82.
When Maxine was there to put up her garage-full of yard and house decorations, her family would trickle by to help. Getting the decor up took several days.
But this year, the first year without Maxine, her family set aside Saturday to all gather and get the house ready for Christmas.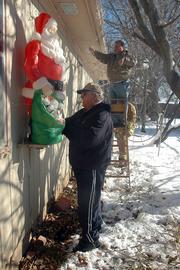 In all, 18 different family members gathered at the house. At any time during the day, a handful of kids huddled inside while others worked in the yard constructing the scene.
Lee said that they planned to keep the house in the family, and, this year, had started a new tradition of decorating it together.
For 40 years, Maxine decorated her yard for the holidays. It started with one plastic snowman and one plastic Santa. Now it takes two trucks to haul the plastic figures alone.
Just about every year, Tom and her family would buy her a new piece for her collection after Christmas, just in time for her Jan. 6 birthday.
"We would see something, maybe at a garage sale, and we'd say, 'Oh, Momwants that,'" Lee said.
Over the years, the collection turned into a neighborhood event, with Maxine's neighbors bringing decor to add to the collection and swapping notes about how many cars drove by to see it the night before.
With all of the family milling around the yard, Maxine still occupied everyone's mind.
Tom Lee leaned up against the trunk of a car and watched his kids and grandkids set up a section of plastic snowmen.
"Well, Mom's not here," Lee said, looking on. "But I just feel like she's here, like pretty soon she'll come out and see it."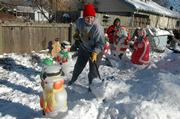 Near the snowmen, Donna Devosha, Maxine's daughter, watched family construct the loosely planned scene.
"I don't know that we have a method," Devosha said.
But the method didn't matter, she said. Family was important Saturday - family present in both body and in memory.
"This adds a lot of spirit - and family time together," Devosha said, looking over the snowmen. "We're with Mom and Dad, too."
Devosha and other family members said that this Christmas would be about Maxine. The grandkids will open presents she bought for them. The tradition of decorating Grandma'shouse will grow.
"It's a way to keep them here," Devosha said, "a part of Christmas."
Copyright 2018 The Lawrence Journal-World. All rights reserved. This material may not be published, broadcast, rewritten or redistributed. We strive to uphold our values for every story published.