A wiring problem short-circuited plans for reopening Wal-Mart's new community recycling center this coming Monday, but Ruth Becker isn't complaining.
After six months out of the collections business, Becker's new drop-off site still should be accepting aluminum cans, plastic bottles and chipboard cartons by the end of next week.
"We are so close we can see it," said Becker, Wal-Mart's green coordinator, after a city inspection Friday turned up a wiring complication. "We need to get it open, desperately. We're getting 35 and 50 phone calls a day. I know it's been a tremendous inconvenience for the people of Lawrence, and we appreciate them hanging in there with us."
Wal-Mart, 3434 Iowa, closed the center in mid-June to make way for a store expansion project. The place had been a hub for community recycling activity, accepting more than 6 million pounds of cans, bottles, paper, boxes and other materials in 2004.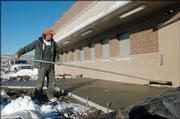 Becker now expects the new center - twice the size of the old one - to open sometime next week. Employees already are lined up to handle the equipment, and signs to direct customers to drop off windows are on their way from Wal-Mart headquarters in Bentonville, Ark.
"What we're hoping to do is open up and have people gradually coming in, instead of opening up and everybody coming out with two months' (worth) of recycling" materials, she said.
Sandy Butter knows the feeling. The manager of Bargain Center, at 12th Street and Haskell Avenue, has been struggling to accept all the recyclable materials coming in from Lawrence-area residents.
The number of materials coming in has doubled during the past couple weeks, she said, as people look to empty out their garages as the holidays approach.
"We're not trying to compete with Wal-Mart," Butter said Friday, relieved after hearing of Wal-Mart's reopening plans. "We're just doing this as a community service while Wal-Mart's (recycling center is) closed."
Wal-Mart's recycling center will be open from 8 a.m. to 8 p.m. Mondays through Saturdays, and 9 a.m. to 6 p.m. Sundays. It is accessible from 34th Street.
Copyright 2018 The Lawrence Journal-World. All rights reserved. This material may not be published, broadcast, rewritten or redistributed. We strive to uphold our values for every story published.