STILWELL — A warning to schools that might want to throw a zone defense at the Lawrence High boys basketball squad this season: It might be best to try a different strategy.
LHS showed its offensive firepower Friday night, shooting consistently over the top of a sagging K.C. Sumner defense in a 63-47 runaway victory at the Blue Valley Shootout.
"We love it when there's zone, because we get a lot more open shots," senior Tyler Knight said. "Three or four people out on the court can shoot threes consistently."
Knight was one of four Lions who made their living from the outside Friday. The 6-foot-2 guard knocked in three treys in the first quarter, helping LHS to 26 first-quarter points and a 10-point lead.
"We are very confident in our ability to shoot," LHS coach Chris Davis said. "We just want to make sure we keep doing it."
The Lions did, with junior Chance Riley also joining in. The junior made three of his four long-range attempts in the first half, with Lawrence shooting a blazing 58 percent (7-of-12) from behind the arc in the first 16 minutes.
"The lid had kind of been on the basket for us in the first three games," Davis said. "It finally came off tonight."
Lawrence not only hit its shots from the outside - it also created them.
Photo Gallery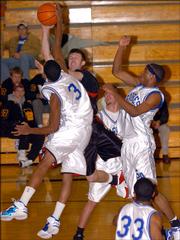 Lawrence High vs. K.C. Sumner 12-09-05
The Lions' guards consistently penetrated the Sumner zone, kicking it out to the open shooter to create three-point opportunities.
The team finished 9-of-19 overall from three-point range, with Kristian Pope and Matt Duncan both cashing in on their only attempts.
The Sabres tried to shoot over the LHS zone defense but made just seven of their 26 three-point shots.
Knight led the Lions with 20 points, making four of eight from three-point range.
"I'm just going out there and playing - not even thinking about what kind of shot I'm taking," Knight said. "I'm just letting it come."
Riley finished with 13, and Cameron Hershiser added nine.
The Lions advanced to the championship game of the shootout at 7 tonight, where they will play the host Blue Valley Tigers, which prevailed in double-overtime, 79-70, over Ralston, Neb., in the semifinals.
LHS fell in the championship game last year and never has won the tournament in Davis' nine years as coach.
"It would be great to be able to go out of here with a win," Davis said, "and it would be a wonderful start to the season if we could get that done."
Lawrence 63, K.C. Sumner 47
LAWRENCE HIGH (63)
Tyler Knight 7 2-3 20, Chance Riley 5 0-1 13, Cameron Hershiser 4 1-3 9, Tyron Mumford 3 0-0 6, Kristian Pope 2 0-0 5, John Novotny 2 0-0 4, Matt Duncan 1 0-0 3, John Schneider 1 0-0 2, Daniel Green 0 1-2 1, Nathan Hickey 0 0-0 0, Nathan Padia 0 0-0 0, Kevin Logan 0 0-0 0. Totals 25 4-9 63.
K.C. SUMNER (47)
Calib Mills 6 4-4 19, Matthew Robinson 4 2-2 13, De Jon Slaughter 3 0-0 6, Melvin Gatson 1 0-0 3, Brian Johnson 1 0-0 2, Austin Bennett 1 0-2 2, Emmanuel Holmes 1 0-0 2, Daray Hill 0 0-0 0, Marc Boyce 0 0-0 0, Brian Moten 0 0-0 0. Totals 17 6-8 47.
Lawrence - 26 - 16 - 15 - 6 - - - 63
K.C. Sumner - 16 - 13 - 9 - 9 - - - 47
Three-pointers - Lawrence 9 (Knight 4, Riley 3, Pope, Duncan); K.C. Sumner 7 (Mills 3, Robinson 3, Gatson). Fouled out - none. Turnovers - Lawrence 19, K.C. Sumner 10.
Copyright 2018 The Lawrence Journal-World. All rights reserved. This material may not be published, broadcast, rewritten or redistributed. We strive to uphold our values for every story published.