Omar Wilkes laughed out loud late Wednesday afternoon when told heavy snow was blanketing Kansas University's campus.
"That's something I don't miss," said Wilkes, a sophomore guard at the University of California who is happy to be wearing shorts to class in Berkeley -- his winter jacket buried in the back of the closet at his parents' house in Los Angeles.
Wilkes, who began his college career at KU then transferred after playing sparingly during the 2003-04 season, will return to KU country for Saturday's 11 a.m. clash between the Jayhawks and Golden Bears at Kemper Arena in Kansas City, Mo.
He's coming back with nothing but fond memories about the Midwest, except the occasional icy weather.
"Just about everything," Wilkes said in a phone interview, asked what he missed the most about KU. "The great fan support, the community, the school, students, professors, players, coaches."
He's exceedingly happy at Cal, where his dreams of significant playing time are being fulfilled. The 6-foot-4, 185-pounder has started all seven games for the Bears (6-1), logging an average of 29 minutes per contest.
He's made the most of the minutes, netting 9.4 points per game off 51 percent shooting (26-of-51; 4-for-6 three-pointers) with 14 assists against nine turnovers.
He's also swished 10 of 12 free throws and pulled down 2.3 boards per contest.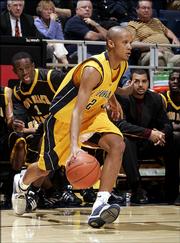 "I just decided to work hard every day and improve my game, and it'd all work out," said Wilkes, who worked overtime on the court and in the weight room last season when he could practice, but not play in games, in accordance with NCAA transfer rules. "I believe hard work pays off and good things happen to good people if they stay positive and remain focused."
Wilkes, who often provided colorful quotes to media members during his year at KU in which he averaged 1.4 points in 21 games, has become intensely focused since becoming a Pac-10 regular.
In fact, he declined to talk to reporters about the KU game until after the game preceding this one -- Tuesday's home victory over San Diego State.
"I guess I'm old-school in that way," Wilkes said. "I learned from a lot of coaches and my dad (Jamaal, former NBA great) to never look past the team we are playing. Personal things don't matter to me, just that we win."
In that vein, he's playing down the natural "Wilkes angle" regarding the KU-Cal game.
"I am very excited, at the same time treating it as another tough road game," Wilkes said. "I don't want to put too much emphasis on myself. I don't want to make it about that."
He did admit it would be nice to see former teammate Jeremy Case, who text-messaged Wilkes on Tuesday, as well as Christian Moody and Moulaye Niang, and said it would be good to play before KU's fans.
"I don't know if I was a (fan) favorite or not," Wilkes said. "I felt a connection, and we had great fans. I feel they can tell when players appreciate them."
He said he hadn't thought much about the reception he would receive during introductions at Kemper. If fans clap, so be it.
"I won't be embarrassed," Wilkes said. "I'd be flattered and appreciate it. At the same time, there's not much I can do.
"I feel I left KU on a good page. I feel both sides handled it with class. There were no burned bridges. I have nothing but positive things to say about the fans, players, coaches, community."
Wilkes has said he left KU because of his desire to play closer to home and achieve more playing time.
"I tend to not live in the past, what's done is done," said Wilkes, who regularly sees former KU point guard Aaron Miles, now of the NBA's Golden State Warriors. "I don't have any bad feelings. I wasn't asked to leave. The coaches there have great basketball minds. Their track record speaks for itself."
KU coach Bill Self said he was "proud" of what Wilkes was accomplishing at Cal.
"Omar is off to a real good start," Self said. "He is a terrific kid. He will have a good career, no question. I'm sure it'll be a big game for Omar coming back, getting a chance to play us."
Cal coach Ben Braun has been thrilled with Wilkes' development.
"Omar has a unique ability to fit in the team environment and make the guys around him better," Braun said. "If you watch him play, he has a knack for finding the basket and finding his teammates, coming up with a loose ball, a rebound or a steal. Those are good attributes to have. He does the intangibles that help your team win."
The Jayhawks are looking forward to trying to keep Wilkes in check.
"Instead of playing against him in practice, I'll be playing against him in a game situation. It'll be fun to see him again," senior guard Jeff Hawkins said.
"When I see him, maybe we'll meet at halfcourt," sophomore Case said. "He's a great friend. I always knew he was a good player. I'm glad he's doing well there."
As far as the text message this week, Case grinned ... "I was just saying, 'What's up.' I was excited thinking about him coming back to play against us."
It's a big game for the Jayhawks (3-4), who are in search of a victory against a name program.
"Rebounding will be important. We've got to keep our composure on the road against a great team," Wilkes said of keys to the matchup. "There will be a lot of adversity. We need to bond together, play tough, run our plays, take to heart our game preparations and run it to perfection."
Omar, by the way, may not be the only Wilkes trying to beat KU on Saturday. His brother, Jordan, a 6-11 Cal freshman who has missed the last three games because of a sprained ankle, is averaging 5.3 points and 2.0 boards while averaging 15 minutes in four games.
"He is doing well, coming back well for a young guy. I'm proud of him," Wilkes said. "I'm giving him his space to learn things as a freshman. At the end of the day he still is my younger brother."
Better days
Wilkes at KU, 2003-04 ¢ Games played: 21 ¢ Minutes: 71 ¢ Field goals made-attempted: 10-26 ¢ FG percentage: 38.5 ¢ Three-point field goals: 4-for-13 ¢ Free throws: 6-for-12 ¢ Rebounds: 19 ¢ Assists: 2 ¢ Turnovers: 6 ¢ Steals: 4 ¢ Points per game: 1.4 Wilkes at California, 2005-06 ¢ Games played: 7 ¢ Minutes: 203 ¢ Field goals made-attempted: 26-51 ¢ FG percentage: 51.0 ¢ Three-point field goals: 4-for-6 ¢ Free throws: 10-for-12 ¢ Rebounds: 16 ¢ Assists: 14 ¢ Turnovers: 9 ¢ Steals: 5 ¢ Points per game: 9.4
Copyright 2018 The Lawrence Journal-World. All rights reserved. This material may not be published, broadcast, rewritten or redistributed. We strive to uphold our values for every story published.