New York — Dick Vitale walked through a narrow Madison Square Garden hallway, stopping dead in his tracks to make a quick comment to writers who cover Kansas University's men's basketball team.
"Free throws : free throws," ESPN's Vitale said, shaking his head in disdain after watching KU miss 13 of 19 attempts, overwhelmingly the key statistic in the Jayhawks' 70-67 loss to St. Joseph's on Tuesday night at the Jimmy V. Classic.
C.J. Giles missed five of six free throws. Sasha Kaun was 0-for-3. Brandon Rush and Christian Moody were 0-2. Julian Wright was the only bright spot with five makes, one miss.
"We make free throws, we win the game," KU coach Bill Self said after the Jayhawks fell to 3-4 overall - KU's worst start since 1971-72 - suffering their third loss in games that came down to the final possession.
This time, the final possession was a three-point try from freshman Micah Downs, who launched from the corner in front of KU's bench with about five ticks left. The shot bounced off the rim into the hands of Ahmed Nivins, who covered the ball and celebrated the victory, St. Joe's fourth against one loss.
"We were trying one of our plays designed for a last-second shot," said Downs, who made two of three threes on the night.
Photo Gallery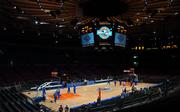 KU vs. St. Joseph's
"The first two guys were not open," he added of Mario Chalmers, who was the first option, and Russell Robinson, who turned down a three to pass to Downs. "My job was to pop out. I wasn't open good, but I had a little bit of daylight. It didn't go this time."
Downs heard words of encouragement from the bench as he released.
"The coaches said, 'Get it up, get it up,''' he said.
A problem was that the 6-foot-8 Downs was shadowed by 6-10 senior Dave Mallon on the last-gasp try.
"I was guarded good by a guy who was 6-10. I almost knocked it down," Downs said.
"Everybody dreams of hitting a shot like that. If I had a little more daylight or the guy would have been a little bit shorter, I think I'd have hit it."
Robinson, who had eight points and three assists in his return to his hometown, was second-guessing himself for not shooting the game-tying three himself.
He drilled a three with 21 ticks left, cutting a 69-64 deficit to 69-67. Chet Stachitas, who hit six of seven threes and scored 27 points, hit just one of two free throws at :17.6, giving KU a chance to tie on the final possession.
"We did it right, but I think I should have taken it," Robinson said. "At the time, I felt like I was guarded."
Self agrees Robinson probably should have released a three.
"I think Russell was open. Micah was wide-open. Russell didn't get the ball to him in time. Still, we got a good look," Self said.
Bronx native Robinson figures it never should have come down to the end.
The Jayhawks, who raced to a 17-4 lead thanks to a 10-point onslaught by Brandon Rush, led 32-20 - following an 11-2 run - with 2:27 left in the half. However, St. Joe's ended the half on an 11-2 run, including a three at the buzzer by guard Dwayne Lee, who had 13 points.
"I think we lost the game in the first half," Robinson said. "We had a nice little lead. We let 'em gain some momentum. The second half we never recovered."
Puzzling is the fact Self told his troops to play especially hard the final moments of the first half.
"We harped on it, said, 'How you end the half is very important,'" Self said. "It gives teams life. With 2:27 left, we said, 'We're up by 11. That 11 could be five or 15.' That was the difference between winning and losing. We didn't end the half right."
Of course, the other difference between winning and losing included free-throw shooting and KU's inability to guard Stachitas.
"I guess we'll be practicing some free throws when we get back to Lawrence," Downs said. "We've got to get our heads right, focus on the line, especially down the stretch."
"We were terrible," Robinson said. "Six for 19 and a couple of the front end (of 1-and-1s). It's something we've worked on, too. It was a big part of us losing."
Meanwhile, Stachitas was wide-open on several threes, a pivotal stretch coming after Wright's two free throws tied the game at 53 at 9:22. Stachitas hit two threes sandwiched around a Wright acrobatic layup with St. Joe's leading, 59-55, at 8:31.
Stachitas also hit a three at 4:17, upping a 63-62 lead to 66-62.
It didn't help that KU went from 6:17 to :34.5 without a field goal.
"We did a miserable job (on Stachitas, but) he was great," Self said. "The disappointing thing is, we didn't guard him on three or four of his makes. On the guard- guard handoff, we forget to switch. We make young mistakes."
Those mistakes have cost the team dearly in the won/lost tally.
"It's frustrating for the guys and staff because we've not experienced success," Self said. "I think these high school guys, these freshmen, are figuring what it's about. We've got to approach it like a marathon. The season is not over. In their minds, after the Maui trip, I think they thought we were off to a horrible start. We were not horrible.
"The national-championship team lost two of three games in Maui. We need some confidence. This would have been a perfect game to win for confidence."
KU will seek the elusive confidence next at Kemper Arena. KU will meet California at 11 a.m. Saturday in K.C.
Copyright 2018 The Lawrence Journal-World. All rights reserved. This material may not be published, broadcast, rewritten or redistributed. We strive to uphold our values for every story published.