As the future drew closer to the present, all Jeff Hawkins and Russell Robinson could do was sit and watch it happen.
The starting guards were benched for the final 18:31 of the second half of Kansas University's 86-57 blowout victory over Western Illinois on Saturday night at Allen Fieldhouse.
Bill Self made the move after the Leathernecks scored the first five points of the second half. Self also removed Brandon Rush, who returned.
In their place, Mario Chalmers, Stephen Vinson, and Micah Downs spurred the Jayhawks on a 12-0 run.
Vinson, a senior on scholarship for the first time, made a big impact, and even if he doesn't get another chance to play so many meaningful minutes, nobody can take away from him the memory he created.
It was the play of the three freshmen who have trailed Rush in impact and minutes that was the best sign for the near future.
Photo Gallery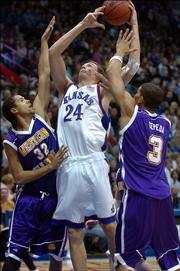 KU vs. Western Illinois 12-03-05
"Coaches sometimes don't have confidence to do certain things in tight games because they basically go with what they know," Self said. "Putting guys on the bench for an extended period of time is maybe not something I would have done if it was a tight game. It gives me confidence in those other guys that they can do it."
Obviously, more than just freshmen need to learn lessons now and then. Robinson and Hawkins' ticket to playing time is punched with intense pressure defense. They don't play it, they sit and watch. And when they sit and watch, KU has an easier time scoring.
"This team is going to go through certain periods of time where we don't score," Self said. "We either better play a great defensive team or try to get your best offensive players in the game."
Playing the best defensive team tends to be easier for coaches to watch. Playing the best offensive team is easier for the paying customers and television viewers to watch.
"I think that Micah and Brandon together, when they're both playing well, is probably the best scorers we have, and with Mario, those three are all pretty good offensive players who can score, as long as you don't sacrifice things on the other end," Self said.
When the freshmen play, the pace of the game picks up, and more than anything the basketball moves faster. They all are gifted passers.
They also have done a terrific job of passing on griping about playing time.
"It's pretty much on me," Downs said of his court time. "If I play good in practice and play hard and work hard, my minutes are going to come. So it's on me. It's not on the coach at all. He keeps saying, 'The minutes are there. The minutes are there. You've just got to prove it and show us you can do it.' I'm feeling more comfortable."
McDonald's All-Americans arrive at college without realizing they have warts. College coaches can be the first to make them take a good, long look in the mirror.
"When I first got here, I couldn't guard a chair," Downs said. "Now I'm playing a little bit better defense. Coach is letting me guard some of the better players on the opposing team. I'm working hard on it in practice. I've kind of had to turn the intensity up a little bit."
Better times are around the corner for the Jayhawks.
Copyright 2018 The Lawrence Journal-World. All rights reserved. This material may not be published, broadcast, rewritten or redistributed. We strive to uphold our values for every story published.