Obsess on either the non-call at the buzzer or Russell Robinson's missed layup late in the game. Waste some time wondering whether a healthy Mario Chalmers, victim of a cheap-shot foul, would have made a difference.
Nothing anybody can do about all that now that Kansas University's 72-70 Thursday night loss to Nevada in Allen Fieldhouse is in the past. It's the future that matters now.
And it's clear the time has come to rush the future into the present by scrapping the two-little-guards lineup in favor of one that has Micah Downs playing with Brandon Rush, the two post players and one of the small guards.
The Jayhawks (2-3) haven't displayed enough offensive firepower to overcome the defensive lapses a team so young is bound to make, so they need to become harder to guard. That's what they were Thursday night when Downs was on the floor, harder to guard.
In Downs' 19 minutes, KU outscored the 20th-ranked Wolf Pack, 37-26. In the 21 minutes he sat, Nevada outscored the Jayhawks, 46-33.
Jeff Hawkins and Russell Robinson bring defensive intensity, but scorers they are not, and this team needs another scorer.
Five games into the season, Downs' confidence is just arriving. Still, he's averaged 18.6 points per 40 minutes, compared to 10.4 for Robinson and 4.4 for Hawkins.
Photo Gallery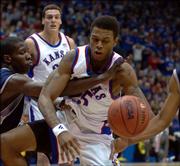 KU vs. Nevada
Downs jacked the crowd with a three-pointer in the first half and hit another with 20 seconds left in the game to pull KU within 71-70. He scored eight points in 19 minutes and made three of five shots from the field, including two of three from beyond the arc.
Hawkins and Robinson didn't hit a three-pointer between them and made four of 15 field-goal attempts.
They defend better than Downs, yet Downs has been better than advertised, thanks to his length and quick hands.
"I don't know what it is," Rush said. "In practice, he doesn't play D. Come game time, he gets down on D and plays hard. That's what I like about Micah. He does it in the games."
And that's not all he likes about Downs.
"I like playing with Micah," Rush said. "He's such a good shooter. I can drive and kick it to him. And he can drive and kick it to me. Based on what you saw tonight, I think you're going to see us playing together a lot more."
The rest of the teams on KU's schedule aren't going to like that.
Downs is the kind of shooter who can't be left alone, which creates more room for everyone else.
So often, when good things happened, things that made the human wheat stalks dressed in blue sway, Downs was at the scene. KU's first lead since 6-4 came when Downs, from the right corner, fed Sasha Kaun on the block for a 52-50 lead.
Downs doesn't play with that in-your-face intensity coaches crave. That doesn't mean he's not a gamer. To hear Rush tell it, Downs is better in games than practice. You can have Adam Barmann. I'll take Micah Downs.
His finesse and body language don't define intensity. That can be deceiving. Few walked to the plate with lazier strolls than Mike Schmidt and Mike Piazza, and few hit the ball harder.
It's time to remove the training wheels from Downs. He's ready, and he's needed.
Copyright 2018 The Lawrence Journal-World. All rights reserved. This material may not be published, broadcast, rewritten or redistributed. We strive to uphold our values for every story published.