State statistics of 50 estimated AIDS cases and 19 HIV cases in Douglas, Franklin and Jefferson counties don't tell the whole story, Geri Summers said.
"There's probably about a third more infected here than people know about," said Summers, executive director of the Douglas County AIDS Project.
The state numbers reflect likely cases where a person tested positive for HIV or AIDS, but may become skewed if people move, she said.
DCAP serves about 85 people infected right now, Summers said, and she doesn't doubt that others may not even know they carry the disease.
HIV and AIDS prevention and awareness were emphasized Thursday in Lawrence and across the world as part of the 18th World AIDS Day.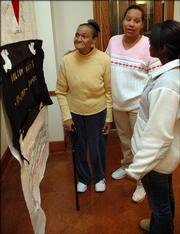 Health agencies at state, national and world levels estimate there are more than 1,600 cases of HIV or AIDS in Kansas, more than 1 million nationwide and about 40 million people infected in the world.
Thursday night, people gathered for a candlelight vigil at the Campanile on the Kansas University campus to commemorate the more than 3 million people who died worldwide this year from the disease.
Summers said the day gave DCAP and others the opportunity to make people aware of the local effects of HIV and AIDS.
"I think that people need to stop thinking that this isn't something that's not real for us," she said.
The disease is real for DCAP member Sandy Swartz, of Topeka, who has had HIV more than 20 years. It turned into AIDS 12 years ago, she said.
But the disease may have saved her life, Swartz said. She no longer considers money the most important thing.
"My priorities have changed so much right now," she said. "I'm really more focused on family, friends and relationships with other people."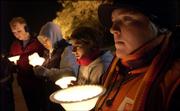 On Thursday, she honored one of her friends, Troy Michel, who died from the disease during the summer. During a service at Plymouth Congregational Church, five new quilt panels were dedicated, and one of them was a camouflage pattern that Swartz and Michel worked on together, she said.
Several area churches rang their bells at 2 p.m. Thursday, and the gesture coincided with national and worldwide bell-ringing efforts to commemorate the day.
Summers of DCAP said the group also tried to educate those in the community on how to prevent the disease, either through sexual abstinence or other methods.
Copyright 2018 The Lawrence Journal-World. All rights reserved. This material may not be published, broadcast, rewritten or redistributed. We strive to uphold our values for every story published.