Michael Yellow Bird's first exposure to Vine Deloria Jr's. groundbreaking book, "Custer Died for Your Sins," was in church.
Sort of.
Yellow Bird spoke Wednesday at a Haskell Indian Nations University forum on the writer's legacy. Deloria died Nov. 13; he was 72.
Yellow Bird explained that while attending a Catholic boarding school in North Dakota, he questioned a history teacher's claim that America was discovered by Columbus.
"I raised my hand and said, 'No it wasn't, it was discovered by Indian people,'" said Yellow Bird, who's now director at the Center for Indigenous Studies at Kansas University.
For his indiscretion, Yellow Bird was sent to the principal's office, where he was dispatched to church to recite 10 Hail Marys and 10 Our Fathers. On his way there, he picked up his mail.
"There was a package," he said, addressing an audience of almost 80 students and faculty. "It just so happened my sister had sent me a copy of 'Custer Died for Your Sins,' which had just come out."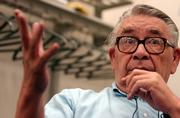 So much for the Hail Marys and Our Fathers. "I started reading it there in the pew," Yellow Bird said. "I kept looking over my shoulder because I was afraid I was going to get caught."
At last, Yellow Bird had found someone who said - no, shouted - that it was all right to be American Indian and "to be proud of who you are."
Published in 1969, "Custer Died for Your Sins" was Deloria's best-known work. He went on to publish more than 20 books.
A Yankton Sioux, Deloria was the son of an Episcopalian minister. He earned a master's degree in theology from the Lutheran School of Theology in Chicago and a law degree from the University of Colorado.
Always outspoken, Deloria openly accused the United States of genocide against American Indians. He called Gen. George Armstrong Custer an "Adolf Eichmann of the Plains," referring to the Nazi henchman who oversaw the deaths of millions of Jews during the Holocaust.
Haskell professor Dan Wildcat said Deloria visited the Haskell campus many times.
"I have to tell it was not easy getting him here. I had to keep after him," Wildcat said. "Once I got him here, I knew there would be no way to keep him from returning."
Wildcat, who studied under Deloria, summarized three major themes he has found in Deloria's works:
¢ "Never give up your native-ness or stand for being told your Indian-ness is of no value - that you cannot be a scientist and a Seminole, or you cannot be a lawyer and a Dine (Navajo), or that you cannot be an engineer because you're Indian."
¢ "We don't all have to live the same way on this planet. It is not 'one size fits all.'"
¢ "Never put knowledge in boxes - economics in one box, religion in a box, science in another - because everything affects everything else."
Wildcat said the debate over evolution and intelligent design "must have Vine chuckling in his grave," underscoring Deloria's resistance to pitting religion against science.
Copyright 2018 The Lawrence Journal-World. All rights reserved. This material may not be published, broadcast, rewritten or redistributed. We strive to uphold our values for every story published.