Misty McCormick's nightmarish summer of dealing with a flooding basement, leaking roof, molding carpets and other family emergencies is drawing to a close on an upbeat note, thanks to a few contractors who have come to her rescue.
"I just didn't know where to go," the 24-year-old Eudora woman, whose husband, Kurtis McCormick, is serving in Iraq, said recently as she recalled how overwhelmed she felt during those days in early June. "I was so lost."
Then McCormick's luck began to change. Several days after stories about her plight appeared in the Journal-World and on 6News, McCormick received a call from a representative of the Paul Davis Restoration Inc.'s "Restoring America" effort. The nationwide contracting firm was going to send workers to fix up her house without charge.
By the end of this week, contractors and subcontractors will have repaired the water-damaged basement and the leaky roof. They will have put down new carpet and drywall in the basement, cleaned up other carpets, repaired and finished a guest basement bedroom and gotten rid of any mold that existed in the house.
In addition to the volunteer Davis contractors, help also was provided by two Lawrence business, Lynn Electric Inc. and Sherwin-Williams Co. Jerry Bascombe, of Air & Mold Assessment Specialists of Johnson County, also assisted.
"I don't know what I would have done without them," McCormick said, as she expressed her thanks to those who came to her aid.
Restoring America is a year-round event that Paul Davis Restoration franchise owners, staff, contractors and subcontractors participate in to restore homes of recipients identified by various agencies and local organizations who need help. McCormick's house problems were larger than the firm's volunteers usually deal with. The work began earlier this month.
"It's a larger project and it is going on in stages, but we felt like she needed our assistance more than anyone we'd seen," said Erin Nix, director of marketing and customer relations for Davis. "It's a project that's being done in stages."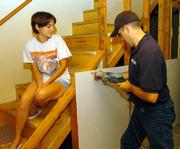 On weekends when he is available, McCormick talks to her husband in Iraq by phone. He's aware of what has been going on at home and welcomed hearing some good news about the problems that beset his family, she said. The couple have two children, Kasi, 4, and Kurtis, 16 months.
"He's excited that somebody is helping me," McCormick said.
Kurtis McCormick, a member of an engineering unit building roads in Iraq, hasn't been able to talk to his wife for more than two weeks. His tour of duty initially was to end in January but there is talk of it being extended to April or May, Misty McCormick said.
In the meantime, she is going ahead with plans to turn the basement into a game room that will be ready for her husband's enjoyment when he returns. The couple already had a pool table and a couch for the basement, and she hopes to be able to add a wet bar by the time he returns.
"That's going to be his place," she said. "I just want him home."
Copyright 2018 The Lawrence Journal-World. All rights reserved. This material may not be published, broadcast, rewritten or redistributed. We strive to uphold our values for every story published.