Lawrence residents need a better way to communicate ideas and concerns to the Lawrence Police Department, Mayor Boog Highberger said Wednesday.
At a study session to discuss progress on community goals, Highberger said he thought the city should create a new, broad-based citizen review board for the police department.
"I think we need some mechanism outside the direct control of the police department to give citizens assurances about our police department," Highberger said.
Highberger said he thought the police department was doing a good job, but he said there was a certain level of "distrust" among some members of the community.
"If people could know that their concerns were being independently reviewed, I think it would resolve some of that," Highberger said.
Police department officials said they were approaching the idea with caution until they heard more details. Sgt. Dan Ward, a spokesman for the department, said it was important that police department leaders have adequate authority to deal with personnel and policy issues.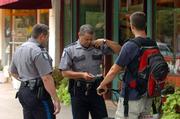 "I can tell you that we do not support any process that would interfere with the officer's accountability, supervisors' oversight or confidentiality and due process for our officers," Ward said.
Details on who would serve and what issues within the department they would be allowed to address weren't specified by Highberger. But the mayor said he anticipated the group would work like most city advisory boards, which are appointed by the mayor and answer to the City Commission.
Highberger said now was the time to move forward with the advisory board because a new state law regarding racial profiling requires the city establish a committee to oversee police training and behavior related to racial profiling. Highberger said since a new board must be created, it might as well have broader authority to look at issues other than racial profiling.
Spokespeople for neighborhood organizations that have dealt with the police department said they were pleased with Highberger's proposal.
"I think it would be a good idea," said James Dunn, president of the Oread Neighborhood Assn., which has had several conversations with police about noise ordinances, parking enforcement and other issues. "Maybe what we need is a citizen's avenue to deal with these things. I know I get frustrated when I call (the police) about the same houses time after time."
Jerry Schultz, steering committee member for the Centennial Neighborhood Assn., said he also was pleased with the idea because it might help speed the process for change at the police department. He said his neighborhood worked for nearly two years with city officials about changing the way the police enforce the city's noise ordinance.
"When you are just a couple of folks from the neighborhood, you maybe don't have the credibility or get the recognition that you would really want," Schultz said. "A group like this might help."
Whether the group becomes reality is still an open question. Highberger's fellow commissioners didn't commit to the idea Wednesday but expressed willingness to discuss it.
Highberger said he hoped to have a serious discussion with other commissioners and the police department in early 2006.
Copyright 2018 The Lawrence Journal-World. All rights reserved. This material may not be published, broadcast, rewritten or redistributed. We strive to uphold our values for every story published.