Kansas is fat, and getting fatter.
More than 60 percent of state residents are obese or overweight, the Trust for America's Health reported Tuesday.
"We want those numbers to go down," said Dr. Howard Rodenberg, director of health for the Kansas Department of Health and Environment.
Twenty-three percent of Kansans were considered obese - neither so hefty as Mississippi, where a nation-leading 28.1 percent of adults are obese, nor as lean as Colorado, whose relatively low 16.4 percent obesity rate made it the trimmest state in the nation.
"If weight loss were easy, everybody would be doing it," Rodenberg said.
That's not happening.
Kansas moved up the ranks of most obese states, from 27th in the trust's 2004 report to a three-way tie for 22nd.
The three-year average obesity rate in Kansas grew by 0.5 percent since the 2004 report.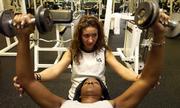 Nationally, though, the obesity rate grew by 0.7 percent during the same period, to 22.7 percent of all Americans.
"We're pleased that the rate of increase in Kansas is lower than the rest of the nation," Rodenberg said, adding: "I think there's reason for optimism."
No surprise
At Lawrence Athletic Club, Fernando Rodriguez wasn't surprised by the report. The personal trainer said the start of the new school year had fueled a surge in clients looking to lose pounds and get into shape.
"We're starting to see a big pick-up in people coming in," Rodriguez said. "A lot of people were uncomfortable with their body this summer."
But good health doesn't end at the club door, Rodriguez said. Workers often skip workouts at the end of an eight-hour day behind the desk, he said, so employers should get involved and offer incentives to work out.
"In the long run, less sick days, (employees) would be a lot more motivated to work," Rodriguez said.
State officials agree.
The authors of the Trust for America's Health report praised Kansas government for encouraging "workplace wellness" programs, and observed that Kansas legislators recently passed a law requiring a nutritional examination of foods available in public schools.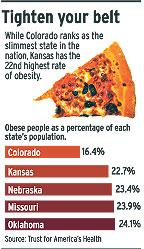 Rodenberg said those efforts, combined with "Healthy Kansas" initiatives to raise awareness of obesity's ill effects - diabetes, heart problems and cancer, among them - are making a difference.
"It is something that is on everybody's radar screen. It is no longer a 'hidden epidemic,'" Rodenberg said.
No health education
But the report singled out Kansas as one of six states that do not require schools to provide health education to students. And it noted that Kansas in the last year joined 19 other states prohibiting lawsuits against restaurants for obesity-related medical conditions.
Seven of the top 10 most obese states were in the southeast region - Mississippi, Alabama, West Virginia, Louisiana and Tennessee were the top five.
Only one state in the union, Oregon, failed to get fatter since the last report.
The trends won't be easy to reverse, Rodenberg said.
"It takes patience, it takes willpower, it takes exercise and good nutrition and good support systems to do it," he said.
Copyright 2017 The Lawrence Journal-World. All rights reserved. This material may not be published, broadcast, rewritten or redistributed. We strive to uphold our values for every story published.