Topeka — State officials are looking at a pricetag of $584 million to fix all the broken things that need fixing at the six public universities, including repairs that, if not done, could be life-threatening.
But despite the backlog of what is called "deferred maintenance," state universities are proposing another $727.2 million in new facilities and improvements over the next five years.
The question has now arisen in the minds of some lawmakers: Why are the schools building more when there have been problems maintaining the facilities they have?
"The regents need to come forward with a comprehensive plan to address this problem," Sen. Jim Barone, D-Frontenac, a member of the House-Senate State Building Construction Committee, said.
Rep. Steve Brunk, R-Wichita, a newcomer to the committee, said he was surprised to learn of the backlog of projects.
"I'm very disappointed to see basic infrastructure not being maintained," he said.
Tunnels not glamorous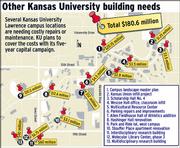 Much of the building boom outlined in the schools' five-year plans will be funded with private dollars or out of students' pockets. But these state-of-the art facilities will need to be maintained for generations to come, and that tab is usually left for taxpayers.
"It could very well seem strange to the public," Rep. Joe Humerickhouse, chair of the building committee, said.
But he and other state building officials say that's the way it is.
Oftentimes, special student funds, alumni gifts and dedicated government funds go toward building new research labs, housing and sports facilities.
No big donor wants his or her name on a utility tunnel, Humerickhouse said. "That's not very glamorous," he noted.
But once the ribbon is cut, the job of paying for maintenance and upkeep often falls to taxpayers.
Maintenance lapse
The situation produces seeming contradictions.
At a recent meeting of the Building Committee, Kansas University officials presented lawmakers with glowing reports on the status of new buildings and improvements at Allen Fieldhouse, all paid for with tens of millions of dollars in gifts and other sources.
The buildings, they said, are helping recruit top-drawer faculty and students.
But on the flip side, they requested for the next fiscal year $8.8 million in state funds to fix the tunnel system beneath the Lawrence campus that routes steam and condensate piping to approximately 50 buildings, in addition to electrical and communication cable systems.
The 16,000 feet of tunnel systems are riddled with water leaks.
Officials also requested $6.2 million to make repairs to KU Medical Center's Applegate Energy Center, which provides utility services to health care and research laboratory areas throughout the campus.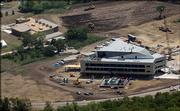 "The failure of a component in these systems could cause loss of life and large financial losses relative to the Medical Center's research enterprise," KU officials stated in their budget request.
Ed Phillips, vice chancellor for administration, said of the needed repairs, "It's not as flashy as a new research center, but it is absolutely essential for us to achieve our mission."
But Barone questioned why routine maintenance was not done to prevent what has become "break-down maintenance."
Brunk also wondered about the lapse in maintenance. "We have a property management company and we budget in maintenance," he said.
Finding a solution
Reginald Robinson, president and chief executive officer of the Kansas Board of Regents, said the annual appropriations for maintenance were simply too small. He said regents schools must "grapple with" factoring in maintenance costs in their construction plans.
"That is something that needs to be examined," he said.
Oddly, an effort in the 1990s that pumped $178.6 million into university building and infrastructure improvements actually decreased the amount of maintenance funds available to campuses until the bonds for the program were paid off, according to a recent audit. The "crumbling classrooms" project also added new building space that increased the current maintenance burden.
Robinson said regents officials and legislators will work together to come up with a plan to address the backlog of maintenance problems. Given the state budget constraints, he said it will be an "uphill struggle" but added, "it only gets worse with inattention."
Copyright 2018 The Lawrence Journal-World. All rights reserved. This material may not be published, broadcast, rewritten or redistributed. We strive to uphold our values for every story published.