From cracked sidewalks to heaving floors to damaged roofs, Kansas University is a nonstop fixer-upper, and because of a lack of funds, is falling further behind every day, officials say.
"We are in a quasi-crisis management mode, basically going from one crisis to the next," said James Modig, director of design and construction management at KU.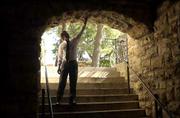 Modig said he had a backlog of $100 million worth of maintenance projects at the Lawrence campus.
For the fiscal year that starts July 1, he will receive $2.87 million out of a total pot of $10 million appropriated by the Legislature for the six regents universities for repairs and rehabilitation. The KU Medical Center campus will receive another $1 million.
Some lawmakers say that's not nearly enough.
"We need a comprehensive program to figure out how we're going to fix all this stuff," said Sen. Stephen Morris, R-Hugoton, who is chairman of the Senate budget-writing committee and vice chairman of a House-Senate committee that oversees state building construction.
The state recently completed a $160 million bond issue called "crumbling classrooms" to renovate deteriorating facilities. But Morris and others say it is time to start thinking about the next push to help maintain the campuses.
"We need to figure out a strategy, because we're getting further behind on maintenance," he said.
The Joint Committee on State Building Construction decided at a recent meeting that it would tour the six regents schools in September to get a better idea about what kind of needs exist.
Morris said lawmakers also had some concerns about the way some schools prioritize their projects. He didn't elaborate.
Modig said he welcomed lawmakers' interest in the KU maintenance process.
"I think we have been pretty diligent about making sure that our priorities are looked at from a need basis," he said.
Modig said KU maintained a master list of needed projects.
"We sit down with our maintenance division and try to help them identify which roofs are in the worst shape, which buildings have to have the mortar, which air conditioning units are about to fail, and which chillers are at the end of their life," he said.
The Lawrence campus has nearly 200 buildings with 8.2 million square feet and a replacement value of about $1 billion. Delaying maintenance just costs more in the long run, and a lack of funding fixes only the most critical problems, Modig said.
"You have to prioritize where your crisis conditions are, which roof is going to fail this year, which fire code improvements are needed and which is the most critical for life safety," he said.
Copyright 2018 The Lawrence Journal-World. All rights reserved. This material may not be published, broadcast, rewritten or redistributed. We strive to uphold our values for every story published.