Oakland, Calif. — The Kansas City Royals lost their 19th straight game Friday night, moving within two defeats of the American League record, and Jay Payton homered to help the Oakland Athletics snap a four-game skid with a 4-0 victory.
Rich Harden (10-5) pitched 61â3 shutout innings to win for the first time in four outings since a four-start winning streak. He didn't allow a hit until Mike Sweeney's one-out double in the fourth.
Nick Swisher hit a pair of RBI doubles, playing in honor of his late grandmother after missing four games to attend her funeral in West Virginia. The A's welcomed back their rookie right fielder, who arrived early Friday in the Bay Area. He wore Betty Swisher's "BLS" initials on his armbands and pointed to the sky after his hits.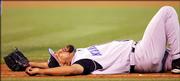 Kansas City (38-82), owner of the worst record in baseball, lost its 12th straight road game to tie the club's longest single-season mark, set by the 1997 squad. The Royals were swept in a three-game series in Seattle and must now face the A's other top pitcher today: 11-game winner Barry Zito. Oakland swept a three-game series from the Royals from Aug. 5 to Aug. 7, outscoring Kansas City, 32-5.
Baltimore lost an AL-record 21 in a row at the start of the 1988 season. The major-league mark since 1900 is 23 straight losses by the Philadelphia Phillies in 1961.
The Royals haven't won since beating the Chicago White Sox, 6-5 in 13 innings, July 27.
"We're still playing a game that millions of boys would love to be playing," said Sweeney, whose visit with a 15-year-old friend and cancer patient in Seattle helped put the slump in perspective. "Here we are pouting about a tough spell we're going through."
As if the Royals don't have enough problems, they got a scare when Sweeney and starter Jose Lima collided at first base on Mark Kotsay's hard grounder in the fourth. Both were slow getting up and visited by the training staff, but stayed in the game.
Payton connected for a solo homer in the second. He homered for the fifth time in 11 games and has 10 homers and 26 RBIs in 29 games since joining the A's in a July 13 trade with Boston. He also added a double in the third and scored twice.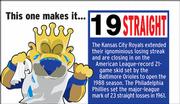 After allowing a leadoff walk to David DeJesus, Harden retired his next 10 batters and 14 of 15. He made a sliding catch in front of the mound on a bunt by Joe McEwing in the third. Harden allowed four hits, struck out six and walked two.
The Royals loaded the bases with one out in the eighth, then closer Huston Street got five outs for his 16th save in 20 chances to complete the five-hitter. It was the eighth time Kansas City has been shut out this year.
Oakland tagged Lima (4-12) for three runs in the second, batting around and forcing the right-hander to throw 38 pitches. Lima lost his fourth straight outing and has never beaten Oakland in five starts.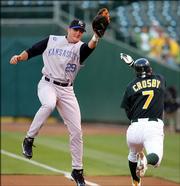 Lima, coming off his first complete game since 2001, gave up four runs, seven hits and four walks in five innings after not walking a batter in his previous start.
Notes: DeJesus left in the fourth with a sore left ribcage and was replaced by Chip Ambres. ... Kansas City got its first baserunner to third in the eighth. ... The A's optioned OF Matt Watson back to Triple-A Sacramento to free up a roster spot for Swisher. ... Royals INF Mark Teahen left the team to attend his grandfather's funeral. ... Payton came in batting .400 lifetime against Lima, and this was his fourth homer.
Athletics vs. Royals
When: 8:05 tonight Where: McAfee Coliseum, Oakland, Calif. Pitchers: Mike Wood (3-4) vs. Barry Zito (11-9) TV: Sunflower Broadband Channel 6
Copyright 2018 The Associated Press. All rights reserved. This material may not be published, broadcast, rewritten or redistributed. We strive to uphold our values for every story published.