Professor Alison Gabriele is new to Lawrence and the Kansas University campus.
And like many of the freshmen students starting their college careers today, she has big ambitions.
She's looking to make a big impression at her first job out of college.
"I'm all these things: anxious, nervous, excited," the new linguistics professor said. "But as I am beginning to get settled, I am more just excited to meet the students and to get the semester started."
Gabriele, 28, is one of 94 new professors at KU and one of about 65 starting their careers in academia with their first tenure-track position.
Many have been in town less than a month and have spent the week in orientation sessions and getting to know colleagues as KU comes to life for the fall semester.
"This week, they're dealing with, 'Did my boxes come?' and 'Did I park in the right spot?'" said Sandra Gautt, vice provost for faculty development. "We try not to do a lot of information overload."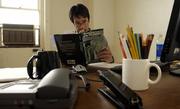 New professors are given six years to prove they deserve tenure, which provides them greater job security and academic freedom. The decision is based on their record of teaching, research and service.
Even brand-new professors are thinking about getting a good start toward their tenure goals.
"It's always on your mind until you get it, the thought of tenure," said Mike Taylor, a new professor in geography. "It's even on your mind when you're a grad student. It's an uphill climb. You earn it - they don't just give it to you."
Taylor, 36, comes to KU from a yearlong post-doctoral study at the California Institute of Technology. He earned his doctorate from the University of California-Los Angeles by studying plate tectonics and the formation of mountains.
"It's kind of ironic, coming to Kansas," he said, referring to the state's flat terrain. But he does most of his field work in Asia, so geography doesn't matter much.
Coming to Kansas did matter to Jennifer Weber's research, though. The assistant professor of history studies the Civil War, and was planning to write a book on pre-Civil War "Bleeding Kansas" even before she got hired at KU.
Weber, 42, is a former California newspaper reporter who went back to Princeton University to get her Ph.D. She spent two years as a lecturer there before being hired for her tenure-track position at KU.
"I've got a bit under my belt," she said. "I'm not nervous so much as I am excited. I really like to teach, and I like undergraduates. They're at such an interesting point in their lives, and they have interesting ideas. I really enjoy that interaction."
Gabriele, the linguistics professor, said she had no connection to Kansas before being hired at KU, other than a friend in New York who grew up in Lawrence and assured her it was a nice place to live.
"I've only been here two weeks, but I've had good experiences with both Lawrence and KU," she said. "I spent my first week just exploring Lawrence. I went to Milton's for breakfast on multiple occasions, went to the Farmer's Market, just walked around the town. I'm happy that there's good produce, good coffee and overall a really pleasant atmosphere."
As time goes on, the new faculty will focus less on getting settled and more on their jobs, said Gautt, the vice provost. In addition to this week's orientation sessions, new faculty are assigned mentors in their departments and often attend sessions held by the Center for Teaching Excellence at KU.
Copyright 2018 The Lawrence Journal-World. All rights reserved. This material may not be published, broadcast, rewritten or redistributed. We strive to uphold our values for every story published.