Pizza Shoppe is coming back to town.
Pawsh Wash hopes to clean up with an upscale dog-washing center.
And Tanner's Grill & Bar, now closed, is still waiting for a new owner.
Such are the latest developments for a strip commercial center near Bob Billings Parkway and Wakarusa Drive, at the retail edge of Lawrence's western growth.
The center, Wakarusa Marketplace, is busy filling its second phase. The entire center has been offered for sale. But as of this week, it still remained in the hands of Pat Talbott and others involved in Jayhawk Equities LLC, which also owns other commercial properties in town.
Among the incoming tenants is Pawsh Wash, which co-owner Amber Nickel describes as "a self-service dog wash, with a high-end pet nutrition center and fun pet supplies - collars, T-shirts, everything."
The goal is to build on Lawrence's burgeoning dog-friendly persona, now that the city already has two dog parks and plenty of people willing to care for their four-legged friends, Nickel said.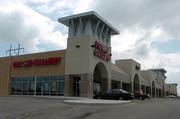 Pawsh Wash doesn't look to compete with Petco, Target, Wal-Mart or other large-scale retailers, Nickel said. The idea is to offer boutique items that aren't readily available anywhere else.
"One company we're working with makes leashes that have matching flip-flops," Nickel said. "You can totally match your dog."
Nickel and her sister, Nichele Nickel, signed a five-year lease for their space and hope to open by mid-September.
Pizza Shoppe is returning to Lawrence by opening a restaurant with seating for 120 people at Wakarusa Marketplace.
Owner Chris Nichols said that booming west Lawrence was ready for another pizza place. It's been years since Pizza Shoppe left its location at Sixth Street and Kasold Drive.
The central location near the western edge of town should put the restaurant into position for success selling its Round Table, Majestic Chicken and Royal Garden pizzas, Nichols said.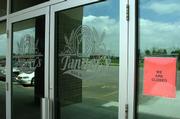 "There's tremendous growth out there," said Nichols, laying grout Tuesday for a new tile floor in the 3,200-square-foot space. "Basically, the target market is families and whatnot, not necessarily the college. We think we can support it."
Nichols, a former manager of a Pizza Shoppe in Shawnee, plans to hire a half dozen full-time employees and another 15 part-timers. The restaurant, which will offer dine-in and carry-out service, is scheduled to open during the second week of September.
Tanner's closed earlier this month. The bar has been offered for sale for months. Tom Hayes, who co-owns the business with his wife, Cindy, accepted a job in February as an assistant football coach at Stanford University.
Pat Talbott, managing partner for Jayhawk Equities, said that he had received no information on the bar's future since its closure Aug. 1. Tanner's has 5,800 square feet of space.
Copyright 2018 The Lawrence Journal-World. All rights reserved. This material may not be published, broadcast, rewritten or redistributed. We strive to uphold our values for every story published.