Motorists should no longer be bothered by the city's downtown waterline replacement project.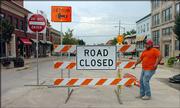 Lisa Patterson, the city's communication's director, said both lanes of traffic on Seventh Street between Massachusetts and New Hampshire streets were now open.
Above, construction worker Jesus Zuniga moved street signs at Seventh and Massachusetts streets Friday afternoon to reopen traffic.
Seventh Street, which had been closed to eastbound traffic, was the last portion of the downtown waterline project that needed to be completed, Patterson said.
The city started work on replacing century-old waterlines in the downtown area in late April. It had caused partial closings of Sixth Street, Massachusetts Street and Seventh Street at different times.
Patterson said city officials were pleased that the project was completed by its mid-August deadline. A new waterline project that will replace aging lines in the 700 and 800 blocks of Massachusetts Street will begin next summer. The Seventh and New Hampshire intersection may be closed later this year for a rebuilding unrelated to the waterline project, Patterson said.
Copyright 2018 The Lawrence Journal-World. All rights reserved. This material may not be published, broadcast, rewritten or redistributed. We strive to uphold our values for every story published.