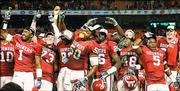 "Vinsanity" is a made-up word used to describe high-flying NBA standout Vince Carter and the out-of-this-world plays he made in his prime for the Toronto Raptors.
Now the word can be applied to another athlete - Texas University quarterback Vince Young.
Young always has been exciting, but now, the whole nation is struck with the fever - Vinsanity, if you will.
A legendary effort in the Rose Bowl has college football fans aching for more, after Young rushed for 192 dazzling yards and four touchdowns in leading the Longhorns to a thrilling 38-37 comeback victory over Michigan.
Young arguably is the Big 12 Conference's leading candidate for the Heisman Trophy.
With standouts like Texas Tech wide receiver Jarrett Hicks, Missouri quarterback Brad Smith, Texas A&M; quarterback Reggie McNeal and Oklahoma running back Adrian Peterson, Young faces rugged competition for the Heisman.
Peterson, in fact, finished second in the Heisman voting last year, after recording one of the best seasons ever by a college freshman, rushing for 1,925 yards and 15 touchdowns.
In terms of production, Peterson may have been more valuable, but in terms of excitement, Young's the guy.
Either way, it's proof the Big 12 South again has the league's best offensive talent. But can the North pull through, wiggle out of mediocrity and give the South a run for its money this fall?
Here's a look at the Big 12 Conference by divisions:
North
Colorado
Rocked by scandals that caused several officials to lose their jobs (except coach Gary Barnett), the Buffaloes are rolling right along, returning many players from last year's team which won the Big 12 North.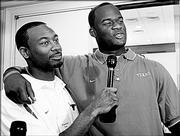 Joel Klatt, solid but not flashy, will be the quarterback again, but he won't have proven tailback Bobby Purify this year. A load of defensive starters return, including all three linebackers - Thaddeus Washington, Jordon Dizon and Brian Iwuh.
Iowa State
Midway through last season, the Cyclones had a breakthrough, and coach Dan McCarney hopes it carries into 2005. A 26-25 victory over Baylor improved the Cyclones' record to 3-4, and it propelled a four-game winning streak that gave them a share of the North title and a berth in the Independence Bowl.
ISU was relatively young, too, with a red-shirt freshman quarterback in Bret Meyer and a freshman who was the leading pass receiver (Todd Blythe). Both return, and Stevie Hicks will keep tailback duties after rushing for 1,000 yards last year. Three offensive linemen also return.
On defense, the entire secondary returns after allowing only 190.3 yards per game passing, third best in the Big 12.
Kansas State
The Wildcats hit quite a pothole last year. Was it just a bump, or did it swallow a tire? The 2003 Big 12 champions finished 4-7, including 2-6 in conference play. Now, featured back Darren Sproles must be replaced, and some wonder whether K-State can regain its swagger.
The Wildcats have good wide receivers (Yamon Figurs, Jermaine Moreira), a solid-when-healthy quarterback (Dylan Meier) and one of the top offensive linemen in the nation (Jeromey Clary).
Linebacker Brandon Archer and defensive end Scott Edmonds are quality players, but does KSU have enough talent to recapture the North title?
Missouri
If Missouri coach Gary Pinkel allows Brad Smith be a dual-threat quarterback again, the Tigers could blossom. Last year, with Smith staying in the pocket under Pinkel's orders, Missouri struggled on offense, lost five straight and didn't make it to a bowl game.
Smith, when unfettered, is one of the best run-pass quarterbacks in the country. Despite rushing for just 553 yards as a junior, Smith is expected to flirt with the NCAA Division I-A record for rushing yards by a quarterback. He's 907 yards shy of Indiana's Antwan Randle-El.
Missouri could face growing pains because Pinkel's three best defensive players turned pro. Only three starters are back from a defense that was among the nation's best against the pass.
Nebraska
The Huskers will have a new quarterback to replace Joe Dailey, a player recruited as an option quarterback who failed to fit into new coach Bill Callahan's pass-heavy scheme.
Taking his place will be Zac Taylor, a junior-college transfer from Butler County. Also in the backfield will be senior tailback Cory Ross and prize freshman Marlon Lucky, the centerpiece of a recruiting class considered among the best in the nation. Several should help right away.
The defense, particularly against the run, was NU's strength last year, but the graduation of linebacker Barrett Ruud will sting.
South
Baylor
Any progress Baylor coach Guy Morriss hopes to make is hampered every year by a brutal schedule. Annual games with Oklahoma, Texas, Texas A&M; and Texas Tech aren't conducive to a return to competitiveness.
Don't expect the Bears to run. They ranked 10th in the Big 12 in rush offense last year and don't appear to have made an upgrade. Shawn Bell, the projected starting quarterback, could be doing a lot of passing.
Baylor's secondary returns intact, and Morriss benefited from BU's track and field program, which helped lure recruit David Gettis, a super sprinter and wide receiver, to Waco.
Oklahoma
The Sooners lost a lot of talent, but they're still Oklahoma. The task for OU will be to establish diversion to keep opposing defenses from focusing exclusively on running back Adrian Peterson. Kansas University focused primarily on stopping Peterson last season and was burned by quarterback Jason White.
White, a Heisman Trophy winner, is gone, along with four of his top receivers - Mark Clayton, Mark Bradley, Brandon Jones and Will Peoples. Also going to the NFL was offensive lineman Jammal Brown.
OU also has holes in the secondary, but the Sooners have signed banner recruiting classes each of the last four years.
Oklahoma State
It could be a year of transition for the Cowboys, although the win-loss record may not change much.
A coaching change - the result of Les Miles heading to Louisiana State - likely will be noticeable with on-field tendencies and sets, but new head coach Mike Gundy had been O-State's offensive coordinator for four years.
Last year, it was run, run, run. The Cowboys were second in the Big 12 in run offense, but last in pass offense. Backfield workhorse Vernand Morency is in the NFL now, and inexperienced talents like Mike Hamilton and Seymore Shaw will be counted on to continue OSU's love for the ground game.
Defensively, Oklahoma State was below average, so new defensive coordinator Vance Bedford has work to do.
Texas
A talented, experienced offensive line will give Vince Young time, and his athleticism will allow him to scramble. Still, Young is not feared as much as a passer as he is a runner.
Texas has a new defensive coordinator in Gene Chizik, but coach Mack Brown returns a lot of solid players from a defense that allowed just 17.9 points per game last year. Linebacker Derrick Johnson, now with the Kansas City Chiefs, left the biggest void.
Texas A&M;
Quarterback Reggie McNeal is one of the most underrated slingers in the country, passing for 2,791 yards and rushing for 718 more in 2004. Lacking the flash of Texas' Vince Young, he'll again play second-fiddle hype-wise in the Big 12 South, but he's clearly the better passer of the two.
Tailback Courtney Lewis could rush for 1,000 yards, and DeQawn Mobley is good enough to be an All-Big 12 receiver.
Texas Tech
Texas Tech still boasts an aerial attack unlike most. The Red Raiders throw, throw, throw, but they also have a game-breaking running back in Taurean Henderson to keep teams guessing.
Tech again will have a new quarterback after Sonny Cumbie's departure, and it's expected to be another one-year wonder in senior Cody Hodges. Last year, Tech averaged just under 400 yards passing per game, tops in the nation.
Wide receiver Jarrett Hicks, who compiled 1,177 yards on 76 catches last year, is back for his junior season, as is junior Joel Filani (310 receiving yards).
In addition, Henderson, who for 840 yards, caught 60 passes out of the backfield.
Copyright 2018 The Lawrence Journal-World. All rights reserved. This material may not be published, broadcast, rewritten or redistributed. We strive to uphold our values for every story published.