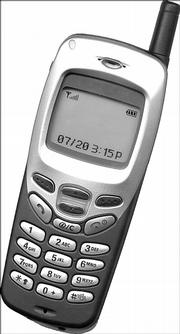 As technology becomes more portable, it also becomes more visible on college campuses. Students have replaced note-passing and Walkmans with cell phones and MP3 players. These technological advances are altering campus and classroom interactions.
Despite some people's animosity toward phone users, the gadgets are still a mainstay of college life. And students keep themselves entertained during downtime on campus by chatting on the phone.
"I talk and walk," says Ashton Martin, a junior from El Dorado. "I need something to do while I'm walking."
Many students forgo a landline entirely and rely solely on a cell phone. Although monthly costs are higher, cell phones enable students to communicate around busy schedules that can include classes, work, sports, parties and more.
Cell phone prices range from free upon signing a contract to several hundred dollars, depending on the features. Cell phones are evolving into multitasking devices. They can take pictures, entertain with games, play movies, access the Internet and more.
Another technological force overtaking campuses is MP3 players. These tiny portable music players make it possible for students to listen to their favorite music during their commute to class. Students tote MP3 players everywhere. The popular iPod can also be seen in droves at the Student Recreation Fitness Center.
Cheaper variations, like the iPod Shuffle and iPod Mini, have become a hot choice with the bargain hunters who want the trendy brand. Prices run from $99 for the Shuffle to $399 for a 60-gigabyte player that holds 15,000 songs and displays pictures.
Many other brands, such as Sony, Dell and Phillips, produce MP3 players that can be less expensive than their Apple counterparts. The iPod Mini is $50 more than its Dell equivalent.
To some, these devices are heaven; to others, they're a pain. MP3 players mean less interactions since the user can tune out while listening. And cell phone users who talk loudly or let their phones ring in class bring a bad name to the technology.
"People aren't as friendly; they just tune out," said Meghan Herndon, a junior from Littleton, Colo. "You're in your own little world."
But even more than MP3 players, cell phones tend to tick people off. Whether she's walking to class, riding the bus or hanging out on Wescoe Beach, overhearing people chat on their cell phones makes Katie Sullivan's blood boil.
"People just talk on their cell phones on campus because they're bored," said the Miami junior. "People on cell phones on buses are the worst."
Cell phones ringing in class irritates students and professors, too. Max Utsler, associate professor of journalism, said he just tried to ignore cell phones ringing.
"I think it's inconsiderate," he said. "But I don't confiscate phones."
Utsler recalled a teaching seminar he attended at the Center for Teaching Excellence on campus in the spring. During the two-day seminar, three cell phones went off among the 16 professors in attendance.
"I hope none of them are too picky about cell phones," Utsler chuckled.
Copyright 2018 The Lawrence Journal-World. All rights reserved. This material may not be published, broadcast, rewritten or redistributed. We strive to uphold our values for every story published.