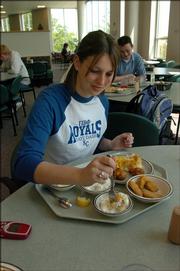 Ramen noodles are the staple food of college life. Students also report subsiding on pizza, chips, wings, "whatever is in my roommate's fridge" and even "cheap beer."
There's no doubt about it - "college food" is often synonymous with "cheap food," and even more often with "junk food," but not if Ann Chapman has anything to do with it.
Chapman, a registered dietitian for Kansas University, is available to counsel students about food-related questions or problems. She is in charge of a university-funded initiative called Better Bites. Only a few years old, the initiative has a logo that appears campuswide on foods, from hot entrees in cafeterias to snack foods in vending machines, that Chapman's task force has deemed a healthier option.
"We've gotten good feedback from those who are aware of the program," she said.
However, Chapman knows there are many factors that lead college students to make less-than-ideal eating choices and that an initiative like Better Bites can only do so much. She cites the 24-hour access to fast food and vending machines and a general decrease in physical activity versus high school life as critical health changes for new college students.
"Many who played sports in high school now have much more sedentary lifestyles that lack an appropriate amount of exercise," she said.
She also credits increased alcohol consumption as another nutritional factor for some students.
"When kids go out drinking," Chapman said, "they take in all of the calories from the alcohol and then oftentimes will have another meal afterwards that they otherwise would have not consumed."
When all of the extra calories that college students consume begin to convert to extra pounds on the scale, there is little surprise.
"I know that I go out to eat more often than I should," sophomore Nick Squire said. "I was living at the dorms and that food got old really fast, and without the necessary appliances the only other option was to eat out."
Squire noticed many others doing the same and consequently putting on their "freshman 15."
He predicts that once he begins living off-campus with a full kitchen, his eating habits will revert back to something more normal.
Nevertheless, he said, "the convenience of fast food is always tempting."
Copyright 2018 The Lawrence Journal-World. All rights reserved. This material may not be published, broadcast, rewritten or redistributed. We strive to uphold our values for every story published.