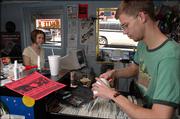 Kansas University student Matthew Nyquist loves old-school video games.
Nyquist's brother introduced him to Atari 600 when he was 2 years old. He began playing Nintendo at age 3. Nyquist would even get up at 5 a.m. just to play video games.
Now he still plays, but he doesn't enjoy the novelties of the game world as much. Nyquist is part of a group on Facebook.com called NES and Super Nintendo Loyalists, and he has a radio show on the Internet at www.breakmanx.com to talk about video games, especially old-school games.
"They are classics, timeless," Nyquist said. "It's like being a child again."
Even with all the novelties of the game world -Xbox, PlayStation I, II, III and Nintendo Revolution - some people are still faithful to the old-school games, such as Atari, Nintendo 64 and Super Nintendo. The games are getting more high-tech, but people who grew up playing old-school games don't feel seduced by that.
"There are a lot of collectors that come just looking for rare games," said Micah Adams, 19, who works at Game Guy, a video game store in Lawrence. "Most kids who are under 13 or 15 don't know much about the games. But most of the older kids like it."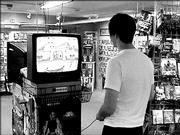 Adams said he used to play a lot of video games and that he still plays, but the only systems he has are Sega Dreamcast and the old Nintendo.
"Everybody will always play Nintendo games because you can also download them to your computer," Adams said.
Nyquist said the new games focused more on technology, while the old-school games were more creative because they didn't have as many special effects.
Many people, like Nyquist, will never forget how it feels to play a good old-school game. No matter how many new releases there are, people will still continue to search for the pleasure only old-school gaming can provide.
Copyright 2018 The Lawrence Journal-World. All rights reserved. This material may not be published, broadcast, rewritten or redistributed. We strive to uphold our values for every story published.