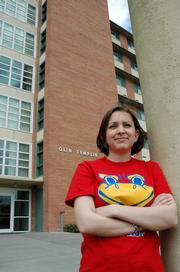 Kansas University sophomore Kate Hill was reminded pretty quickly last fall that KU wasn't crawling with students from her hometown of Andover.
"It was hard because most of my friends went to other schools, and people in my dorm all seemed to know each other because they went to school together in the Kansas City area," Hill said.
What followed for Hill was a classic case of homesickness. Frank DeSalvo, director of counseling and psychological services at KU, said it was a pretty common malady for freshmen on Mount Oread.
"We consider homesickness kind of a reaction to dealing with a new environment," DeSalvo said. "Usually students are coming from someplace where they have support systems in place. They're moving to a new environment, so what we try to do is get them out there and help them with ways to introduce themselves to new people."
Hill never needed to go see DeSalvo or counselors in his office, but she said students needed to be aware of the potential of feeling lonely or isolated when they first arrive on campus.
"The first week was actually all right because it was pretty busy," Hill said. "But the next month or so was kind of tough. But eventually you get into a routine and everything is fine."
DeSalvo said students shouldn't expect the feeling to linger too long.
"Usually it is a fairly short-lived phenomenon for most," DeSalvo said. "The first month is the tough time. By the beginning of October, they have pretty well figured it out. If it persists beyond the first semester, there's probably something else there that we should talk about."
Hill said the biggest help for her ended up being the place that at first made her feel uncomfortable - the dorm. She said it ultimately became a place where she could meet people and establish a routine that made her feel comfortable.
DeSalvo said other strategies for meeting new people included joining a club.
"We tell students to identify areas of interest and look for groups built around that area of interest," DeSalvo said. "If you like to snow ski, go look for a snow ski club on campus. We try to do that so they can walk into a room and feel comfortable that they're going to have something in common with people."
If students are having trouble shaking the homesick blues, DeSalvo said they can always come to KU's Counseling and Psychological Services Department. It is on the second floor of the Watkins Health Center, or students can call at 864-CAPS.
Students whose hometown is close to Lawrence also have to learn to adjust to new surroundings. Erica Viviano, a KU junior, is from Overland Park but said she realized that she had to begin making decisions about how often to go visit home.
"I think there is a balance because if you go home too much, you miss some of your college experience," Viviano said.
DeSalvo agreed, although he said there is no hard-and-fast rule to know when to visit or call home.
"The idea is if you are trying to use those calls as a substitute for home, then that might be an issue," DeSalvo said.
DeSalvo also said that freshmen aren't the only people at KU who will experience homesickness. He said, in fact, most everybody will at various stages of their lives.
"One of the groups that you don't think about is graduating seniors," DeSalvo said. "They have spent four years here, they know the system, they know people, they have connections. And then they leave here."
DeSalvo said that's why, in some ways, it is important for college freshmen to experience homesickness and learn how to deal with it.
"In all likelihood, you are going to need those skills again in life," DeSalvo said.
Copyright 2018 The Lawrence Journal-World. All rights reserved. This material may not be published, broadcast, rewritten or redistributed. We strive to uphold our values for every story published.