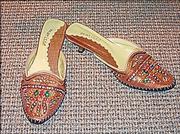 The summer's sparkling shoes are definitely of the moment, but remember, they'll attract attention - not good if your ankles are too thick (or even too thin).
British fashion experts Trinny Woodall and Susannah Constantine, of TV's "What Not to Wear," have some advice in their new book, "What You Wear Can Change Your Life" ($22, Riverhead Books).
For those with thick ankles, they say, "a flat shoe with a thin toe makes the ankle look even stumpier. A high ankle strap strangles the ankle and a low kitten heel is in danger of looking like it's going to snap under your weight." Keep it clean, say the fashion experts, by wearing a simple thong, which "lends much needed length to a thick ankle, and can help turn it into a respectable part of the body." That said, "a more substantial shoe looks in proportion to a more substantial ankle. Clogs are a thick ankle's best friend."
As for high heels, they advise avoiding anything cut high in the back, which covers the thinnest part of the ankle, making matters worse. Likewise sling-backs or mules with thin heels will give the impression of having squashed a large leg into a tiny shoe.
Meanwhile, people with overly thin ankles should stay away from anything too clunky - they'll make thin ankles "look like trees stuck in concrete." Go for a thong sandal with an open back so the flow of your leg isn't broken. Also look for pointed toes (less jarring than round) and keep details delicate.
To look absolutely fabulous in heels, "beware of hefty heels if you are blessed with thin ankles. They dominate the shoe, make your feet look enormous and exaggerate the skinniness of your ankles." Go for more elegant heels, advise Woodall and Constantine - "a slender, classic heel is much more flattering to a thin ankle than a chunky heel."
Copyright 2018 The Lawrence Journal-World. All rights reserved. This material may not be published, broadcast, rewritten or redistributed. We strive to uphold our values for every story published.