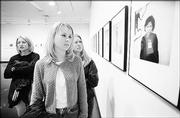 Many of Kansas University's nearly 30,000 students learn about cultural opportunities from rainbow-colored sidewalk chalk on Wescoe Beach, where bars and venues tout a cornucopia of potable diversity, ranging from German Jagermeister to Japanese sake. Sadly, many students are oblivious to Lawrence's wealth of higher culture, which serves up events that can whet the mind's appetite, instead of just quenching one's thirst. Here's a sampling of cultural opportunities that often go unnoticed by those who plan their weekends by the sidewalk chalk buffet.
Spencer Museum of Art, 1301 Miss., 864-4710
The only art museum in Lawrence sits between the Campanile and the Kansas Union. The Spencer collection ranges from classical Western styles to challenging contemporary pieces to a highly respected array of Asian art that even features a Zen rock garden. The Spencer is perfect for a few hours of relaxing artistic reflection. Exhibits change regularly; visit spencerart.ku.edu.
Lied Center, 1600 Stewart Drive, 864-2787
The Lied Center is the oyster that cradles the pearls of performing arts in Lawrence. The largest venue in town sits on west campus and plays host to artists from across the country and beyond, featuring Broadway musicals, operas, chamber music and dance troupes. It's also home to performances by the University Dance company, the KU Symphony Orchestra and other top-flight student groups. With student rates for most tickets, the Lied Center is a great place to see famous acts without paying infamous prices. It's even within walking distance from the dorms. For more information, visit www.lied.ku.edu.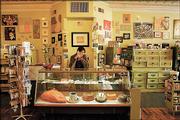 Murphy Hall, 1530 Naismith Drive, 864-3982
Home to KU's music department, impassioned musical experimentation and painstaking technical practice usually can be heard throughout the night in one of Murphy Hall's myriad practice rooms. Its most notable spaces, however, are the Inge Theatre, Crafton-Preyer Theatre and Swarthout Recital Hall. Here, students stage musicals, plays and concerts throughout the year. The 2005-2006 season includes "Popcorn," by Ben Elton; Mozart's "The Marriage of Figaro" and Anton Chekhov's "The Three Sisters." Students get reduced ticket prices. For more information, visit www.kutheatre.com or www.ku.edu/~sfa and click "News & Events."
Lawrence Community Theatre, 1501 N.H., 843-7469
Those searching for a more diverse crew than KU often casts may want to take in a show at this homegrown theater, where a motley array of volunteer talent converges from Kansas City, Topeka, Lawrence and lots of small surrounding towns. The 2005-2006 season includes Disney's "Beauty and the Beast" and the murder mystery satire "Red Herring" by Michael Hollinger. Student discounts offered.
Liberty Hall, 644 Mass., 749-1972
Just down the street from the renowned Free State Brewing Co. sits another Lawrence icon, a protean venue that plays host to music, movies, variety shows and the occasional dance troupe. One glance at the celestial paintings that adorn the main hall and the red crushed velvet seats makes it easy to see this is no ordinary theater. If there's an indie film playing in Lawrence, it'll be showing on one of two screens at Liberty Hall. "Two-fer Tuesdays" are a boon for those on a budget.
Olive Gallery and Art Supply, 15 E. Eighth St., 331-4114
On the first Saturday of every month, the Olive Gallery awakens as a true hub of the Lawrence art community. Of all the galleries in town, this is the place to find fresh, edgy artwork. The gallery doubles as an art supply shop that caters especially to students, packaging supplies required for intro art and design courses at KU. Proprietor Jill Kleinhans' attempts to involve the entire community in the arts may contribute to attendance at her First Saturday openings, when the modest space virtually bursts at the seams with artists and enthusiasts of all ages.
Lawrence Arts Center, 940 N.H., 843-2787
Since the School of Fine Arts cut all of its classes for students enrolled in other colleges in the university, the LAC has become the last, best hope for those hoping to broaden their artistic horizons. The arts center offers studio space, classes, spacious galleries and performance opportunities. Class offerings include ceramics, jewelry, studio art, ballet and theater. The center is also home to two professional performance troupes: the Seem-To-Be Players and the 940 Dance Company. For more info, visit www.lawrenceartscenter.com.
Copyright 2018 The Lawrence Journal-World. All rights reserved. This material may not be published, broadcast, rewritten or redistributed. We strive to uphold our values for every story published.