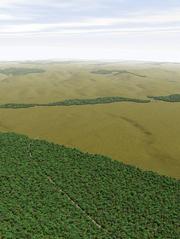 "On both sides of the Kansas River, above the Wakarusa, there are excellent forested bottomlands. On the south bank, the high prairie comes down to the water's edge : away as far as the eye can reach the prairies are high and rolling, like the waves of old ocean. A dark line of timber stretches along the Wakarusa Valley, with the great Prairie Mound [Blue Mound], fixed there as a landmark of perpetual beauty, and the meandering river with its dark skirting forests of timber on the north."
In 1854, from somewhere just east of present-day Lawrence, George S. Park, writing for the New England Emigrant Aid Society to encourage an abolitionist settlement here, offers a glimpse back in time when our local landscape was far different than what we find today.
It might be fun to just imagine saddling up with Park to gaze upon what had inspired him to write so flatteringly of Lawrence, and perhaps even pretend to keep a wary eye out for border ruffians. Today, however, we are considering how this information from our past can assist with a more practical matter: the protection of a small native prairie just north of Lawrence that belongs to KU. This special prairie is among several tracts of land comprising KU's Field Station and Ecological Reserves, and these are managed by the Kansas Biological Survey. We have been concerned for some time that this prairie's very existence is being seriously threatened by increasing development of the lands surrounding it. Recently, however, 160 acres adjacent to the prairie became available for purchase by the university, offering at once an effective solution and an exciting opportunity. KBS is currently raising funds to purchase and manage the new property to safeguard the prairie, devote some areas to research, teaching and public recreation, and restore the entire parcel to a more naturally functioning landscape. Why, one may ask, should we in Lawrence care about such things?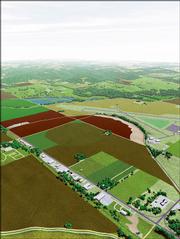 KBS has been using advanced computer technology to reveal how Lawrence likely appeared at the time of settlement, based in part on an 1856 U.S. Government Land Survey map of the area. One of these visualizations (shown at upper left) lets us imagine Mr. Park's "dark skirting forests" and rolling prairie "as far as the eye can reach," and from this we can begin to perceive how greatly our panoramic view of the land has changed in the last 150 years. What might it look like 150 years from now, or even 50?
Other research at KBS has shown that in 1856 a vast tallgrass prairie covered roughly 94 percent of Douglas County. What remains today is less than 1 percent of that, or perhaps about 2,000 scattered acres. Sadly, the "grassland sea" that in earlier times was a defining aspect of Douglas County has virtually disappeared. We can't recover the past and yet, surely, there is much value in preserving some small part of it before it is gone forever.
With this in mind, KBS is steering efforts to purchase the 160 acres to help protect this small yet priceless 10-acre prairie north of town. The prairie has never been plowed and was used solely as a hay meadow from the 1870s until 1956, when it was purchased through a donation to KU and later made part of the KSR. It is most unusual in that nearly 200 kinds of plants occur on this one site, including several that are quite rare. It is one of only four sites in the world where two federally protected species, the Western prairie fringed orchid and Mead's milkweed, occur together. Careful study of the many plants and animals that live here will be critical to understanding how best to conserve and manage our last prairie remnants and maintain their diversity. One important component of the new land will include a place for the propagation of locally adapted prairie plants (and their seeds) from our site for use in restoration projects at KSR and elsewhere in northeast Kansas.
In addition to protecting the prairie, which is vital, acquisition of this new land will open public access to more than two miles of new self-guided nature trails and a shelter. The trails will have signage and informational displays about our local heritage and wildlife, and take visitors on unique excursions to demonstration areas to learn about the science of prairie and wetland restoration, grassland management, ecological succession and other interesting research activities at KSR. Near the shelter there will be attractive gardens exhibiting native wildflowers and medicinal plants. Another area is being planned to showcase how Native Americans and early settlers made use of the land and the bounty of their environment as a way of preserving our locally rich human natural history as well.
Students from KU, area schools and the public will all be invited to participate whether their interest is academic in seeking specialized instruction through a class or workshop, for exercise, or simply a desire to commune with nature.
It is apparent a former grandeur that embodied our vast natural heritage is now just a distant memory. Hopefully this awareness will awaken a resolve that this little prairie, at least, is deserving of our concern and committed protection. As Lawrence grows, this land will provide important habitats for our diminishing wildlife, coveted open space for our residents and many natural benefits we will cherish in the years to come. We have a chance right now to protect it for future generations while creating a compatible area surrounding it for important research, education and outdoor recreation. Perhaps another value may rest very simply in preserving one of the few remaining chances for us to see the land as George Park did, and serve likewise to inspire our human imagination and intellect to the many wonders and beauty still present in the natural world.
- Scott W. Campbell is a research associate with the Kansas Biological Survey. He can be reached at 864-1502.
Copyright 2018 The Lawrence Journal-World. All rights reserved. This material may not be published, broadcast, rewritten or redistributed. We strive to uphold our values for every story published.