Katharine Kelley doesn't remember her first Vinland Fair in 1909, but that is only because she was about 3 months old. Kelley's family entered her in a baby show that year, and she won first prize, she said.
"I don't know how I ever managed that," Kelley, now 96, said Thursday after she checked in her exhibits on the fair's first day.
The Vinland Fair, now in its 98th installment, began in 1907 in the rural community between Lawrence and Baldwin on Douglas County Road 1055.
"I think it's a general get-together," Kelley said. "It's a good idea."
Kelley now volunteers as a historian and tries to preserve the history of the area, including events like the fair. On Thursday, she entered her yellow tomatoes, jars of jelly, other food items and flowers for judging with hundreds of other hopeful participants.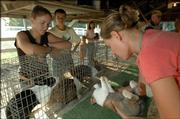 Also inside the exhibit barn Thursday, Gloria Hood monitored food entries. She has been involved with the Vinland Fair for more than 15 years.
"It's a gathering and a chance for people to come and see their neighbors. It makes it lovely," she said.
Brandon Reed, 16, of Baldwin, has entered exhibits for six years, but he is looking forward to today's hay-bale toss.
"It's just a fun time," he said.
While Thursday's headliner event was an evening concert by The Alferd Packer Memorial String Band, two full days of events continue today with an antique tractor pull at 7 p.m.
But the most experienced Vinland fairgoer will wait to find out about her favorite part of the fair.
"I enjoy getting prizes like blue ribbons," Kelley said.
Schedule of events
Today 10 a.m.: Stock bicycle races Noon: Sack race and tug-of-war 7 p.m.: Antique tractor pull (register from 4 p.m.-6:30 p.m.) 7:30 p.m.: Witness Band Saturday 9 a.m.: Horse-shoe pitching 11 a.m.: Pet parade, box-turtle race 1 p.m.: Livestock judging 1:30 p.m.: Pedal tractor pull 4 p.m.-5 p.m.: All exhibit entries released 7 p.m.: Ice cream making contest 7:30 p.m.: Cubby Lane and the Secrets concert
Copyright 2018 The Lawrence Journal-World. All rights reserved. This material may not be published, broadcast, rewritten or redistributed. We strive to uphold our values for every story published.