West Haven, Vt. — Talk about culinary irony - rabbit meat is in short supply.
Despite the critters' proclivity to reproduce, demand for rabbit meat has surged in recent years and breeders are struggling to supply the many trendy restaurants adding it to their menus.
"We could easily be doing 1,000 a week. The demand is there," says Langis Anctil, whose Champlain Valley Rabbitry farm in West Haven, Vt., is working full tilt to raise that many bunnies a month.
Of course, it's not that rabbits don't reproduce fast enough - it's just an 11-week cycle from birth to broiler. The problem is that there aren't enough producers.
It's just a $10 million industry - stitched mostly from a patchwork of small farms and hobbyists - so small the government barely tracks it.
For restaurants such as Minibar, a posh tapas-style eatery in Los Angeles that had offered a popular rabbit sausage since opening nearly two years ago, this has meant serious supply problems.
"We would find a purveyor with the product at the right price, but then they'd run out and we'd find another and then they would run out, and that's what it's been like for about eight months," says owner Ravel Centeno-Rodrigues.
"Finally, we took it off the menu."
The number of producers has been in a steady decline since rabbit's heyday about 60 years ago. That's when a wartime meat shortage led the federal government to urge people to switch to rabbit, making it a common offering in grocers' meat cases. But as the supply of red meat and chicken improved, rabbit fell from favor.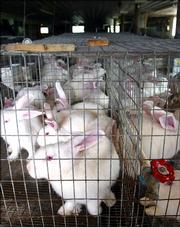 Rabbit meat industry insiders blame its decline for so many years on an undeserved bad rap. Though farm-raised rabbit tastes like - surprise! - tender chicken, it has a reputation as a tough and gamey meat.
The Easter Bunny syndrome - a reluctance by many Americans to eat animals that are cute and fuzzy - hasn't helped, either, according to Pat Lamar, president of the Professional Rabbit Meat Assn.
But it seems the reputation is fading and fuzzy is becoming fabulous. Today, rabbit is in restaurants from Los Angeles to Portland, Maine.
In 2004, the United States imported more than 1 million pounds of rabbit meat, a near doubling from the year before, according to the U.S. Department of Agriculture.
Much of that is ending up in specialty shops and restaurants, which have begun serving rabbit in everything from North African tagines and mixed grill to smoked sausages and salads.
Part of the appeal is health. Rabbit is low in fat and cholesterol and high in protein.
Copyright 2018 The Associated Press. All rights reserved. This material may not be published, broadcast, rewritten or redistributed. We strive to uphold our values for every story published.