The forms are going home to students and their parents in high school newsletters.
As students prepare to return to school, they can opt out of having their names, addresses and phone numbers included in directory information given by the schools to the military to aid recruiting.
A little-known provision of the 2001 No Child Left Behind Act allows the military to request student rosters.
Recruiters said the information makes their jobs easier.
"I think it's very valuable for the recruiting system," said Eddie Olsen, recruiter in charge at the Navy Recruiting Station at 23rd and Louisiana streets.
But it's an issue that concerns some privacy advocates and others.
"This obviously caused a great deal of worry among people interested in civil liberties," said Howard Schaffer, spokesman for Public Education Network, a nonprofit public school advocacy group.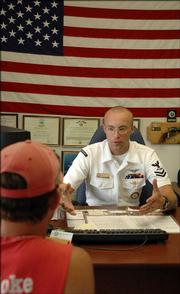 Years after the law's passage, a small percentage of Lawrence students refuse to have their information shared.
At Lawrence High, 42 of 1,244 students have opted not to have their information released. At Free State High in the past school year, 18 students of about 1,200 opted out.
Before the 2001 law, schools were not required to give out the information, but some did.
Deb Koons, registrar at Lawrence High, said the school gave out the information even before the law was passed.
"Nothing's changed as far as what we give out," she said.
But some schools did withhold the information, and, in those cases, the military had to rely on data gathered when young people registered for the draft, Schaffer said.
Students who opt out of having their information given to the military also opt out on other areas they might find less objectionable. For example, opting out often means a student's information also will be removed from the student directory sold at fundraisers or from lists given to colleges or the media.
Schaffer said this provision has exposed the limits to information management in many schools.
Olsen said he has seen some recruiters abuse the privilege and hound students, but that doesn't occur in the Navy or his office.
He said if a person asks not to be called again, the Navy won't call back.
"We really don't pressure anybody to do anything they don't want to do," he said.
Copyright 2018 The Lawrence Journal-World. All rights reserved. This material may not be published, broadcast, rewritten or redistributed. We strive to uphold our values for every story published.