At age 71, Helen Lambertson could be forgiven if she wanted to skip the strength class at Babcock Place.
After a lifetime of toil and sweat, why would she want more?
But Lambertson said she just hates to miss her exercise.
"I can tell when I don't go there, definitely, because I start the old achey stuff," Lambertson said after class last week. "It pays to keep moving."
State officials hope other elderly Kansans adopt Lambertson's attitude. They're sponsoring the class at Babcock Place, 1700 Mass., as a pilot program to develop techniques to help senior citizens live healthy lives - part of a broader effort to reduce obesity and health care costs around the state.
"I think it's important to focus on seniors because the population continues to age. We're living longer," said Rod Bremby, secretary of the Kansas Department of Health and Environment, which is co-sponsoring the Babcock program with the Department on Aging.
KDHE started rolling out programs a year ago under the "Healthy Kansas" initiative by Gov. Kathleen Sebelius to address rising health care costs. The program focuses on tobacco-use prevention, but also on getting children, working adults and senior citizens to exercise more and eat healthy foods.
Two-thirds of Kansans can be classified as overweight, Bremby said, leading to higher rates of heart disease, diabetes and some cancers - part of the reason national health care costs are expected to double to $3 trillion by 2014.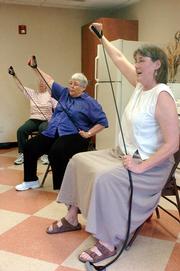 "We know we can address some of those costs," Bremby said. "All public health is beginning to focus on prevention. Our health care costs are out of control."
Getting kids to exercise - 109 schools across the state are participating in a KDHE program on that front - will help them develop lifelong habits, Bremby said. Keeping workers healthy will keep employers' health insurance costs low.
And keeping senior citizens in shape will help them live independently longer, he said.
"When seniors are physically active, they remain up and moving, they remain flexible," Bremby said.
Gayle Sigurdson, who leads the strength class, agrees.
"My focus, overall - not just with the exercises - is to keep people living independently," she said. "Routine things that you take for granted, that you don't think about, are a big part of that.
"Being able to reach the top cupboard to get food down, being able to lift a basket of laundry and get it to the laundromat, just being able to get up and down out of the chair," she said. "You notice one of the things we do is just get up and down out of our chairs."
Class members also do shoulder shrugs, toe curls and balancing exercises to stay flexible and avoid the kinds of falls that often put elderly people in the hospital and nursing homes.
"What we've learned is the ankle is the first indicator you're going to fall, so we work a lot on the ankle," Sigurdson said.
The experience is invigorating for Lambertson, who said the exercise has helped her lose 15 pounds in recent months.
"When I get (to class), I have a whole different outlook," she said. "And when I leave, it's really energizing."
The program hits its one-year anniversary in September. State officials will review its progress then.
Not everybody at Babcock participates. A few residents peeked in the window to cast teasing glances at the exercisers. Lambertson, though, is ready to spread the gospel.
"Everybody can use some exercise," Lambertson said. "And I just enjoy it so much."
Copyright 2018 The Lawrence Journal-World. All rights reserved. This material may not be published, broadcast, rewritten or redistributed. We strive to uphold our values for every story published.